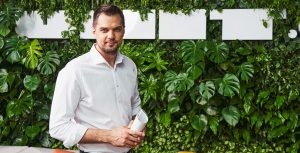 "We are interested in implementing a project that brings Ukraine closer to the top European countries," Constantine Yevtushenko, Managing Partner of UNIT.City
We strive to create an ecosystem where talent will grow faster, and the very philosophy of UNIT.City is to build a place where cool ideas become a part of life, said Constantine Yevtushenko, Managing Partner of UNIT.City.
In an interview with the European Business Association, the top manager of the innovation park spoke about how innovations are born in companies, as well as about the influence of creative space on the creation of breakthrough ideas.
About the philosophy of UNIT.City
We aim to make your stay at UNIT.City more comfortable and involve partners and funding. Despite the global challenges, life does not stop, and we have learned to adapt to it.
About the search for innovation
In large companies, innovations are either born and developed internally or are attracted from outside. But regardless of the chosen model, it all starts with finding new ideas and opportunities. The UNIT.City ecosystem has accelerators that are actively involved in the development of innovation culture. They identify which innovation areas are most in-demand, organize employee training and practice, and help from an internal team that will be engaged in the development of innovation from within.
To find new ideas, we use hackathons, ideations, pitches, educational sessions. These are useful practices for businesses that do not want to stand still and are ready to change.
About the plans of the innovation park UNIT.City
UNIT.City is able to restart the creative economy of the whole country. It is a cult project for Eastern Europe that is becoming a magnet for talent, innovation and technology. This is where technology companies and brands will be born, by which Ukraine will be known all over the world. In a few years, we will completely digitalize the work of the whole UNIT.City.
Business is a collective game where everyone is strong in their competence. The team always goes to common goals. It must have a clear structure, hierarchy and training. As a captain, I am responsible for the team spirit, and we, as part of a great corporate culture, live in that spirit.
Read more about how UNIT.City is developing and why corporate culture in the modern world is a powerful driver of business development at the link.