Prospects for the development of Ukrainian industrial parks will be discussed in Bila Tserkva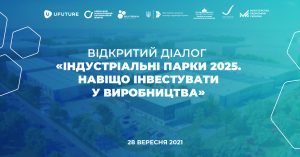 On September 28, 2021, an open dialogue between the business and government representatives will take place on the territory of Bila Tserkva Industrial Park on the topic: "Industrial Parks 2025. Why invest in production." The event is organized by Bila Tserkva Industrial Park and the Kyiv International Economic Forum with the support of strategic partners: UFuture holding company, the Ministry of Community and Territorial Development, the Ministry of Economy, the Office of Reforms of the Cabinet of Ministers, and the Verkhovna Rada Committee on Economic Policy. The event partners are also the OSCE Project Coordinator in Ukraine and CMD-Ukraine.
The main topic for discussion will be the recently adopted amendments to the law on industrial parks (Bill №4416-1). The changes are expected to create real tools for developing and stimulating investment in industrial parks. In addition, representatives of international business in an open dialogue will talk about the international experience of stimulating the development of industrial parks and support bills №5688 and №5689.
The speakers of the event will be:
Vasyl Khmelnytsky, founder of UFuture holding company and Bila Tserkva Industrial Park;
Oleksiy Chernyshov, Minister of Community and Territorial Development of Ukraine;
Dmytro Natalukha, Chairman of the Verkhovna Rada Committee on Economic Development;
Iryna Novikova, Deputy Minister of Economy of Ukraine;
Oleg Boyarin, founder of Solomonovo Industrial Park, Chairman of the Eurocar Supervisory Board;
Bartholomew Ostrowski, Vice President of ALDA — European Association for Local Democracy, former Deputy Director of the Wroclaw Technology Park (Poland);
Dušan Kulka, Export Promotion Manager, USAID Competitive Economy of Ukraine (Czech Republic);
Harvey Carroll, American businessman, developer of industrial parks (USA);
Chen Chunfeng, director of the Ukrainian-Chinese International Association (China).
The key topics for discussion will be:
the concept of development of industrial parks in Ukraine;
international experience in the development of industrial parks;
a new bill on industrial parks: incentives for the development of production;
how industrial parks work today and what they can offer businesses;
how to develop regions and strengthen Ukraine's economy with the help of industrial parks.
The program also includes a tour of the Bila Tserkva Industrial Park.
You can register for the event via the link, and get acquainted with the detailed program — here.
Start at 10:30.
Address: Bila Tserkva, Bila Tserkva Industrial Park, Plank Electrotechnic, Levanevsky street, 66-A.
Please note that the number of participants at the event is limited. So after registration, please expect confirmation from the organizers by mail.