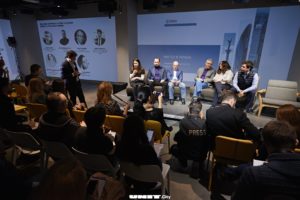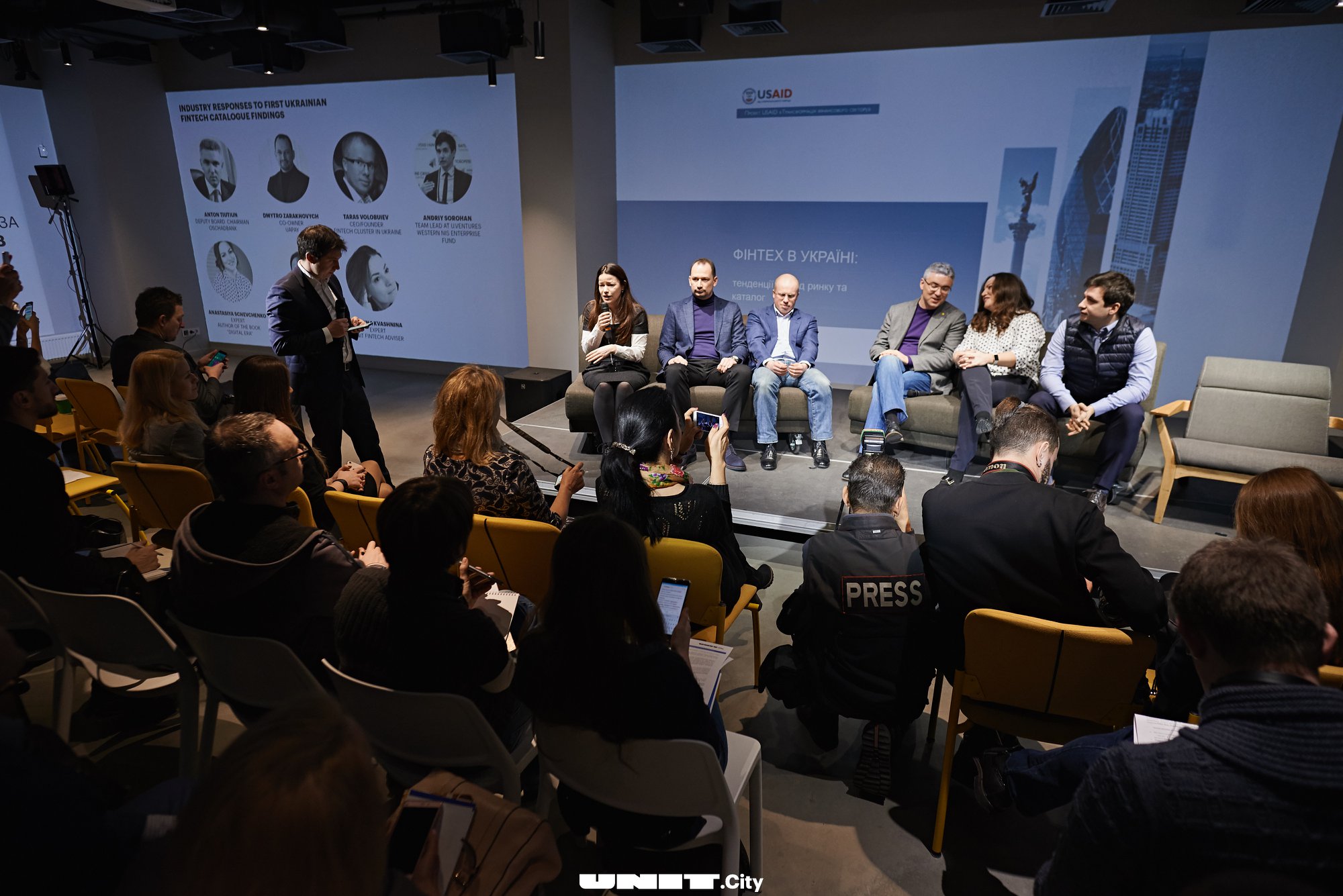 USAID Financial Sector Transformation Project and UNIT. City Present First-ever Survey of FinTech Sector in Ukraine
Kyiv, Ukraine (February 22, 2018) – Over 80 Ukrainian companies are actively developing innovative products that apply technology solutions to the financial sector (FinTech). About 60% of these FinTech companies began operations in the last three years, and about 80% are already providing services to the market.
These were among the key findings discussed at the presentation of "FINTECH IN UKRAINE: Trends, Market Overview and Catalogue," by the USAID Financial Sector Transformation Project and UNIT.City. In addition to discussing both global and Ukrainian market trends, the catalogue provides information about participants of the FinTech ecosystem of Ukraine (services, contact information, areas of specialization). The purposes of the Catalogue include increasing interest among investors, foreign and domestic, and facilitating strategic business partnerships for these young FinTech startups.
"Our goal is to promote financial inclusion and greater access to finance for all Ukrainians. The further development of the FinTech sector through better regulation, better products, increased investment, and strategic partnerships with traditional financial players, will contribute importantly to this objective," emphasized Robert Bond, Chief of Party of the USAID Financial Sector Transformation Project
Key findings:
40 % of the FinTech companies that participated in the survey were started prior to 2015, while more than 60% emerged within the last three years. Approximately 84% of FinTech companies have launched services and products.
Finance is a key issue. 45% of FinTech companies use their own capital to finance operations (no external finance).49% have or are seeking investments from outside investors.
Investment needs of the Ukrainian FinTech sector are estimated by market players at $40 to 75 million.
The areas of specialization of Ukrainian FinTech companies are payments and money transfers (31.6% of all companies), infrastructure and enabling technologies (19.3%), lending (14%), marketing (7%), insurtech (5.3%), digital banks (5.3%), personal finance (5.3%), mobile wallets (5.3%), blockchain (3.4%), and cryptocurrencies (1.75%).
Max Yakover, CEO and Managing Partner of UNIT. City, stated "We believe that thanks to our survey banks will find innovative solutions for their business, startups will receive assistance in their development and investors will find potential partners and clients. Synergy and collaboration can create much more than we think. It is precisely this mission build in our DNA – to strengthen businesses, initiatives and the ecosystem as a whole."
«The FinTech sector in Ukraine is at an early stage of development. It is important to encourage its development in ways such that it not only contributes to moving Ukraine toward a cashless economy, but supports financial awareness, access to financial services by small and medium businesses, and financial inclusion for underserved populations in rural and conflict areas. Increased investment and strategic business alliances are an important first step" emphasized Andriy Biryukov, Advisor to the First Prime Minister – Minister of Economic Development and Trade of Ukraine
Copies of the Catalogue are available at: USAID Financial Sector Transformation Project and UNIT.City
The American people, through the U.S. Agency for International Development (USAID), have provided economic and humanitarian assistance worldwide for 50 years. In Ukraine, USAID's assistance focuses on three areas: Health and Social Transition, Economic Growth, and Democracy and Governance. Since 1992, USAID has provided $1.8 billion worth of technical and humanitarian assistance to Ukraine. For additional information about USAID programs in Ukraine, please call USAID's Development Outreach and Communications Office at: +38 (044) 521-5753 or visit: http://ukraine.usaid.gov. For more information about USAID Financial Sector Transformation Project and its activities, please contact the Program's Communications and Outreach Team at: +38 (044) 237-02-10.
The purpose of the USAID Financial Sector Transformation Project (October 2016 through December 2020) is to help transform the Ukrainian financial sector into a transparent, fair, and diversified system that supports businesses of all sizes and serves the needs of people. The Project supports financial sector reform in Ukraine and provides assistance in the following focus areas: building trust in the banking sector, increasing access to finance in the non-bank financial sector; expanding digital finance solutions; reforming the pension system; reaching out to vulnerable groups to better involve them in financial activities. The Financial Sector Transformation Project focuses on financial literacy and financial consumer protection to help consumers gain confidence, knowledge, information and protection necessary to expand the opportunities of full participation in financial markets.
For more information about USAID Financial Sector Transformation Project and its activities, please contact the Program's Communications and Outreach Team at: +38( 044) 237-02-10. FTS Project Facebook https://www.facebook.com/FSTProject/
About UNIT.City
UNIT.City is Ukraine's first innovation park. It is the location where matchless infrastructure and all-inclusive ecosystem enable high technology, innovative and creative businesses to happen and flourish. The goal is to become the center of innovations and a one-point entry into Ukraine for investors, partners and new technology from all over the world. The mission of UNIT.City is to create a unique innovation platform where advanced companies, start-ups and mavens get an opportunity to cross paths and work together ramping up their growth and honing quality.
Park offers its residents a package of additional services for business development: meetings with investors, counseling, mentoring and accelerating programs, prototyping laboratories, great infrastructure for work and leisure.
Contacts for media:
Denys Smyrnov, Communications manager at UNIT.City
Tel.: +38093 14 25 299
E-mail: [email protected]
Media:
Photo, Video
For more information, please visit our pages in social media:
Facebook, Instagram