UNIT.City will host the international innovation U Tomorrow Summit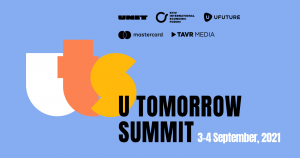 This year's most important business event — the international innovation U Tomorrow Summit — will take place on September 3-4 in the UNIT.City innovation park. The event is organized by the Kyiv International Economic Forum and UNIT.City, and the strategic partner is the holding company UFuture.
The mission of the meeting is to unleash the intellectual potential of the Eastern European region so that local talents and startups have the opportunity to offer their own solutions to global challenges and learn about the world's best experience in building a sustainable future.
U Tomorrow Summit (UTS) is 1000+ participants of the most technological industries from Ukraine, Poland, Germany, Georgia, Bulgaria, Lithuania, Latvia, Estonia, France, Azerbaijan, Kazakhstan, Turkey, Romania, and other countries, 100+ speakers from 15 countries with real business cases and 25+ themed tracks. Google, BlablaCar, UFuture, Rozetka, Petcube, Rocket, Avalon, Doc.ua, Mastercard are just some of the companies that will share their experience with Ukrainian business.
Each UTS participant will have the opportunity to learn about the latest trends, meet potential investors and find new partners. And to present your startup and share experiences with the founders of new progressive companies. The event will benefit entrepreneurs, corporations, startups, venture funds and investors, and ecosystem players.
Join the companies that are already changing our future today, and move with the changes in unison on September 3-4 at UNIT.City. More about the event and the conditions of purchasing tickets via the link.