TRAINING FOR LEADERS: THE SECOND PHASE OF THE KIEF ACADEMY STARTS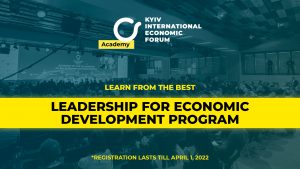 The unique flagship program "Leadership for Economic Development" by Kyiv International Economic Forum's educational project KIEF Academy starts on April 15. The training program is designed specifically for entrepreneurs, investors, top managers, government officials, opinion leaders, journalists, experts. For two months, the lecturers, top thinkers from Ukraine and the world, will share their expertise with the participants.
The Leadership for Economic Development program includes 8 blocks:
global trends and successful cases in Ukraine;
applied macroeconomics and economic policy;
instruments of economic development;
management strategies and best practices;
financing of development projects;
successful teams creation;
'invisible capital': reputation, PR and GR;
culture, thinking, psychology.
The KIEF Academy brought together top experts from Ukraine, the EU, the USA and Hong Kong. Including:
Ivan Kompan, director of the Deloitte Academy and a lecturer at the Edinburgh Business School;
Grzegorz W. Kolodko, Ex-Deputy Prime Minister and Minister of Finance of Poland;
Andrii Baumeister, Doctor of Philosophy, Professor of Taras Shevchenko National University of Kyiv;
Chandran Nair, founder of The Global Institute for Tomorrow, the Club of Rome member;
Olena Boitsun, Luminate's Investment Director for Central and Eastern Europe.
The training will take place on the territory of the UNIT.City innovation park on Fridays and Saturdays. Applications will be accepted until April 1.
"KIEF Academy is a new educational project that has no analogs in Ukraine. We have brought together experts from the public, private and business sectors to create joint development projects. Top speakers will provide the necessary knowledge and tools to implement these projects. The KIEF Academy is a platform where horizons expand, new opportunities open up and new ideas are born," said Vitalia Seleznova, Director of the KIEF Academy.
The project was launched by the Kyiv International Economic Forum, a key economic forum in Eastern Europe that brings together business, government and society. Vasyl Khmelnytsky's UFuture holding company became a strategic partner of the KIEF Academy.
"Growth is possible only with high-quality and effective training. That's why the KIEF Academy offers everyone – business leaders, government officials, public figures – a unique network and a strong community of like-minded people. We have created an opportunity to learn from the best so that the students of the Academy can use this knowledge and build a successful future for their companies, cities and Ukraine," said Yuriy Pyvovarov, CEO of the Kyiv International Economic Forum.
Useful knowledge, practical cases, influential community and insights – the program will provide a unique experience that will help accelerate the potential of leaders.
For more information on the KIEF Academy and the Leadership for Economic Development program, follow the link.