"There is no single recipe for building a strong team," Olena Dobrorodneva, Director for Organizational Development UFuture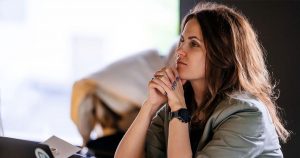 Previously, the "star team" was often referred to only as individual achievements. Today it is more about the potential that every "star player" reveals in a strong team. So, we are talking about collective leadership. Such a mature team's power lies in the overall motivation and desire to act responsibly for achieved goals.
Olena Dobrorodneva, Director for Organizational Development UFuture and project manager at UFuture Talents, believes that to build such a community successfully, it is necessary to create conditions for people to join the company and adapt to new issues and move together in the same direction.
In her speech at the SME Forum "Reboot 2020", she shared her experience in hiring leaders and the principles of team motivation:
There should be people in the company who go first and determine the speed and ability to adjust to the pace. Employers with renewed vigour can add a drive. The personality of the leader also matters. He must develop to move forward as the team takes an example from him.
Ask the employee to rate the level of satisfaction with the company on a 10-point scale. If the figure is below 7, then the specialist is already looking for a new job. If the mark is higher, it is good news for the business owner. In addition to a good salary and a convenient work schedule, a professional can appreciate the view from the window or delicious coffee.
Also, Director for Organizational Development UFuture highlighted three significant mistakes in "star team" collaborating:
High expectations. It seems that the "star player" literally will be able to complete any task on the next day. But this is not the case. It takes time for professionals to get used to each other, adapt and synchronize their pace.
Talents don't need development. It is a mistake to think that new employers can do anything. They also need development and collaboration.
Fast results. In a month, no specialist can turn a loss-making company into a growing business. It is necessary to allow a new colleague to prove himself.
Read more about the secrets of hiring and developing professionals in the article via the link.