"The state has to create infrastructure and rules," — Vitalii Melnyk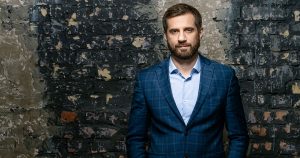 Business drives the economy and urban development, which in turn contributes to the development and prosperity of products and enterprises. In the article by Pragmatika, Vitalii Melnyk, Vice President of Innovation Parks Development UDP, spoke about how exactly a developer influences building a city and why an innovative park is a solution that saves people time and contributes to significant earnings.
The rules by which cities are built in Ukraine are decades behind the needs of modern people. As a private investor, we can change only those plots that we have leased or owned. On our land, we create an environment of a new quality, as we focus on international trends that we lay in the city's development.
According to our calculations, an employee in Kyiv spends four to five weeks a year on the road from home to work. Unfortunately, even two years will not be enough to solve the problem, and the traffic collapse will only grow, as will the desire of each person to be more flexible and free in movement. That is why the UDP philosophy's key point is that a human should get everything needed by foot because the most valuable resource is time.
Our biggest challenge is to promote the desire of people to live close to work, so we are working hard to create residential areas as comfortable as possible and make them points of attraction.
Foreign partners regularly advise the UDP team, in particular, on sanitary and epidemiological measures. The project of building B11 at UNIT.City, which we opened this fall, has already introduced many innovations dictated by the realities of our time: disinfection, temperature screening, contactless access in public places. Other functions are still hypothetical, but subsequently should address the issue of social distance and minimize crowds at the elevators.
Future residents and residents of the innovation park will communicate with the services in a completely virtual form. We strive for a complete digital transformation of the entire range of services — from utility bills to innovative security systems.
We are in constant communication with homeowners around UNIT.City and are always open to inquiries or questions. Also, we do not see anything terrible in the likelihood of housing sales by the current owners of apartments around the park due to the rise in prices per square meter.
We are introducing Lean Management for the fourth year in a row. John Shook, Senior Advisor at Lean Enterprise Institute, wished our team to be incredibly famous when we were able to solve problems in the multitasking process of project-oriented work in the presence of constant change.
Improvement is possible only if you deeply understand the essence of the processes and strive to do better tomorrow. Therefore, it is so important to be able to identify problems. And Lean is that every error found should be discussed and resolved.
A master plan is needed for the development of the city. To do this, all developers must be in the same coordinate system, with clear rules and areas of responsibility. However, we, as developers, cannot form all the rules. Therefore, responsible regulation by local authorities is a success. The state has to create infrastructure and include not prohibitions but rules.
Also, Vitaly Melnik shared his vision of a livable city:
complete infrastructure;
developed an urban transport system;
accessible and safe park areas; high-quality architecture;
functional landscape design;
integrated waste management system;
high-quality drinking water;
the solution to the problem of noise.
Read more about the urban phenomenon and innovative approaches of the UDP development company via the link.