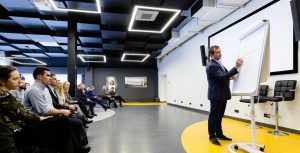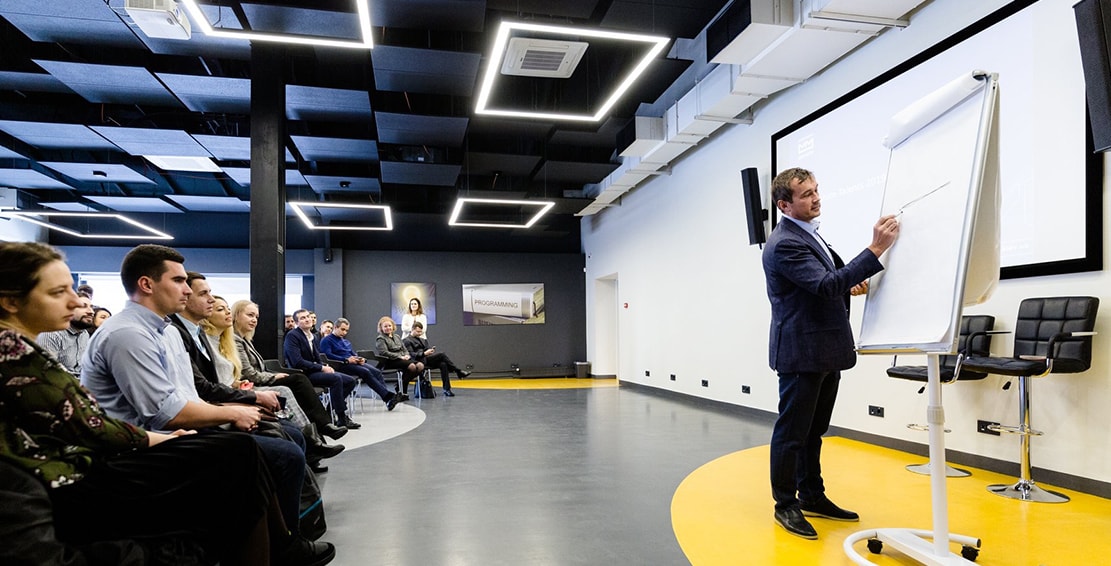 The innovative corporate educational program for top managers UFuture Talents-2020 started recruiting
January 23, 2020. — A new set has started to the unique corporate program UFuture Talents, which aims to identify, train and develop Ukrainian talents. It allows modern managers to acquire new knowledge, and also to join the team of the holding company and implement new ambitious projects. Last year, UFuture Talents was recognized as the best corporate training program in Ukraine.
In 2019, the UFuture Talents program received more than 200 applications, among which 26 managers with English proficiency and ability to work independently and in a team were selected. As a result of the program, 13 of them fell into the perimeter of UFuture and a number of its projects.
This year, 30 participants will be selected for UFuture Talents. The application is valid until January 31, namely the training will be held from February 22 to May 25. Members of the program will be managers who are ready to become part of the business, directors, and partners of UFuture, and create new projects.
"Ukraine today is a country of great potential for the development of entrepreneurial culture, innovations, technological business, economic development. We believe that human talent is the most valuable resource of the future. That is why we invest in the education and development of strong and creative teams and have created UFuture Talents, a training program for top executives. This is an opportunity for gifted young people to quickly reach a new professional level, get up-to-date knowledge, real project experience, network for success, mentoring from the best UFuture specialists," — Vasyl Khmelnytsky, founder of UFuture, said.
UFuture Talents is an analog of pre-MBA education in terms of content and relevance. However, uniqueness lies in the development and protection of existing business projects. The new set will receive even more teaching hours than last year, deepen the program and provide a quality upgrade of staff. The latter was made possible by the consortium of UFuture Talents with partners — MIM Business School and Deloitte Academy.
"We are looking for leaders and commercial geniuses who evaluate and develop owner-level projects. The goal of UFuture Talents is to develop effective teams capable of creating innovative projects that are beneficial to the business and economy of Ukraine as a whole, and to find a niche in a competitive environment," — Olena Dobrorodnieva, UFuture Talents Program Manager, commented.
In the second season, the participants will have
84 academic hours of intensive training from MIM teachers;
44 hours from UFuture's top management;
40 academic hours of financial management from Deloitte Academy;
the development and protection of participants in existing business development projects.
At the end of the program, each participant in the UFuture Talents-2020 receives a certificate of successful completion of the course. The most promising managers will have the opportunity to join a team of UFuture.
Apply and more information on UFuture Talents-2020's innovative corporate executive training program is available at the site.
ADDITIONAL INFORMATION
UFuture is a holding company of Ukrainian entrepreneur Vasyl Khmelnytsky that integrates his business and impact-investment projects.
The company has a diversified portfolio of assets in the fields of real estate, infrastructure, industry, renewable energy, pharmaceuticals, and IT. Currently, UFuture's assets are estimated at $550 million, and the total capitalization of the businesses it invested in is more than $1 billion.
UFuture is a majority shareholder in UDP development company (specializing in large infrastructure projects), Kyiv Sikorsky International Airport (the second international airport in Ukraine by passenger traffic), national operator of outdoor advertising RTM-Ukraine, and a group of IT companies and an ecosystem of tech solutions ITernal. UFuture is a strategic investor in the pharmaceutical company Biopharma and UDP Renewables, renewable energy investment and development company. UFuture is also developing new business projects including UNIT.City innovation parks in Kyiv and Kharkiv, LvivTech.City in Lviv; Bila Tserkva industrial park and a manufacturer of modern electrotechnical systems, Plank Electrotechnic.
UFuture supports social projects in the fields of education and economics, including the Kyiv International Economic Forum (KIEF), Lean Institute Ukraine, UNIT School of Business, UNIT Factory innovative IT-schools in Kyiv and Kharkiv, INDAX accelerator, Novopecherska School, the all-Ukrainian online platform iLearn, K.Fund Books and #bestread publishing projects.
UFuture's mission is to secure global connectivity of Ukraine by including the country's economy and talent into international value chains where the economy and human capital of the state will play an important role.