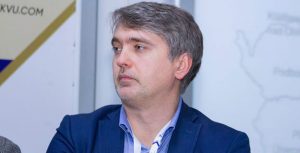 "The depth of shocks and strength of new trends in the duration of economy lockdown," Volodymyr Khmurych
The crisis is stimulating the introduction of new technologies and business models. E-commerce is growing organically. It doubles the reach and attracts new users of the global era of impression economy. Online shopping is becoming interactive. Consumer behaviour is increasingly based on real-time experience, impressions and emotions.
With the introduction of restrictions on the movement of virtual and augmented reality technology have become even more widespread. They have already penetrated in the B2B sales and sophisticated products such as commercial real estate, enabling them to expand their quarantine-bound customer communications.
Following the change in supply chains in logistics can expected redistribution of production chains, especially in the automotive industry. China, South Korea, German carmakers suspend or cut production due to delays in supply of cable harnesses from China. This and other events can be a starting point of the beginning of global asset redistribution. A pandemic provides an incentive to find a better balance between globalization and the necessary degree of independence, with localization of production at the national or regional level.
If the longer crisis lasts and the greater the obstacles to the free movement of people, goods and capital, then the greater the chance that supply chains will become shorter. Production for some industries, such as medicine and high technology, will be localized. It is possible that some of the enterprises will be located in Eastern and Central Europe.
A window of opportunity will open for Ukraine. Global trends in logistics will not pass us by. Supply chains will shrink. This will require more logistical and warehouse real estate. Restarted businesses and factories are expected to restart in the near future. Production, unlike the office, cannot be transferred to the home office mode. Obviously, many companies will not return to their previous volumes, given that the purchasing power of the population has decreased. However, the review of national and global supply chain companies, the complication of labour movement across borders and other factors give us every reason to believe that Ukraine as a whole and our industrial park, in particular, will occupy a certain niche in the Central and Eastern Europe region.