RANKED: VASYL KHMELNYTSKY AND KOSTIANTYN YEFYMENKO AMONG THE BEST MANAGERS IN UKRAINE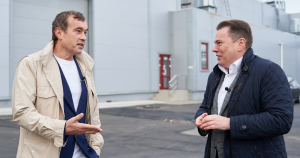 Almost two hundred Ukrainian managers were included in the updated management rating of the TOP-100 magazine. Candidates were judged on criteria such as emotional intelligence, crisis management, innovation, leadership and change management. The founder of the holding company UFuture Vasyl Khmelnytsky was topped as the best in the category 'Owners and founders'.
"The founder of UFuture holding company has been building the unique infrastructure and ecosystem of the UNIT.City innovation park for many years. (...) To build the Ukrainian analogue of Silicon Valley, Khmelnytsky invited Dominique Piote, a digital transformation expert with 20 years of experience in the world's largest companies, to head UNIT.City. This is one of the flagship projects of the UFuture, which unites more than 50 various businesses of Khmelnytsky," the journalists wrote.
The rating jury included specialists in top managers recruiting, experts with experience in staff training, market analysts and members of the editorial board of the TOP-100. Therefore, the winners were those managers who received the highest number of points from the expert jury.
Kostiantyn Yefymenko and Biopharma
In addition to Vasyl Khmelnytsky, the rating includes his business partner, the president of Biopharma immunobiological pharmaceutical company, whose strategic investor is UFuture, Kostiantyn Yefymenko.
"Kostiantyn Yefymenko has built the only company in the country specializing in the production of plasma preparations. Biopharma drugs are used to treat patients with immunodeficiency, autoimmune, neurological and oncological diseases. The unique company receives almost a third of its turnover from its foreign partners," mentioned the journalists.
A full rating of the best Ukrainian CEOs according to TOP-100 can be found at the link.