"Most entrepreneurs earn their first capital by their work," Vasyl Khmelnytsky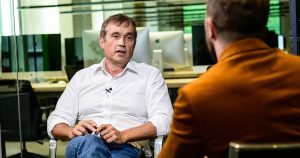 Its very cool to do one business professionally and live in that, but experience shows that it is better to have 3-4 businesses in different directions. It would be best if you learned from mistakes and hedge risks. Vasyl Khmelnytsky, the founder of the UFuture holding company, took part in the special project "100 richest people of Ukraine" published by Million and entrepreneur Andriy Ostapchuk. There he told about his own practical experience of saving, earning, losing and investing money.
People who justify their inaction want to think that someone stole the first million. I am sure that 95% of wealthy people earned their first capital through their work.
Entrepreneurs never see their money. It is impossible to realize either a billion dollars or a hundred thousand because we see only numbers.
Open companies are not business yet. The person registered the enterprise and did nothing with it. There are many companies in the tax base, but there are not many successful small and middle businesses in Ukraine.
Support of startup entrepreneurs should be a state priority. I am convinced that compelling Ukrainian productions and creative startups can restart the economy today.
It will not be a tragedy now if I lose my business or money. The main thing is when you have the tools, skills and team.
In our country, unfortunately, it is reputationally unattractive to be an entrepreneur. But I am convinced that a businessman is a person who takes risks, takes responsibility, studies, creates workplaces, pays taxes and raises the economy. Entrepreneurship must be honorable.
Read more about the first million, way to the club of the wealthiest Ukrainians and why you need to reduce your wealth every decade after the 60th anniversary via the link.