How Ukraine can become a global innovation hub — Сonstantine Yevtushenko, Managing Partner of UNIT.City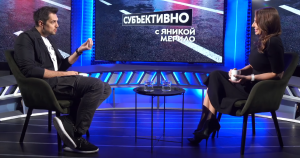 The main enemy of creativity is fear. Fear of making a mistake, fear of being convicted or fined. When a person is afraid, creativity is not born in him, Constantine Yevtushenko, managing partner of the UNIT.City innovation park developed by the UFuture holding company said in an interview with the adviser to the Vice Prime Minister of Ukraine for Digital Transformation Jaanika Merilo.
That is why UNIT.City is trying to build a culture where a person is valued, where he can feel safe and not be afraid of anything.
Creative economy
The area where Ukraine can be most efficient and competitive is the creative economy.
Creative economy — one that earns, say, not on production, but on the monetization of ideas, startups, technologies. If a country wants to be successful in a creative economy, it must create the right conditions. By conditions, I mean, first of all, infrastructure. Estonia, Finland, and many Western European countries have followed this path. This gives you the opportunity to bring together talents, young people, and innovators.
As for Ukraine, our state has not created such projects. So today UNIT.City is, in fact, the first project in Ukraine where an innovative infrastructure is created. Startups and teams are born here; there are acceleration and training programs. Finally, there is funding for young teams, such as the Ukrainian Startup Fund.
"When we set the right priorities, Ukraine will very quickly become a powerful innovation hub. We are strong in innovations, startups, disruptive technologies, and service — it is simply extraordinary in Ukraine," said Constantine Yevtushenko.
Infrastructure
UNIT.City is part of Ukraine's innovation infrastructure, which allows the state to compete in the global arena. More and more teams are starting to create startups here at home. The time when we worked exclusively abroad has passed, Yevtushenko emphasizes.
American venture funds, which typically operate in Silicon Valley, are beginning to change their standards of operation. Through Covid-19 and lockdowns, they are ready to broaden their horizons: look for startups in other countries, communicate remotely, and more. They lack interesting projects and talents.
UNIT.City's task is to make sure that people do not feel uncomfortable working and living in Ukraine. In particular, thanks to quality infrastructure, aesthetics, and networking.
"We are struggling with the outflow of talented people abroad in an attractive location."
About the team
Business is a very team game. That's why we try to build a culture in which there are no vertical connections, in which everyone supports each other, calls things by their names. If something goes wrong, we talk about it openly. If you made a mistake, we apologize. There is no progress without mistakes.
We try to build a culture of interaction. And people who work in the creative economy really appreciate it.
See the full version of Constantine Yevtushenko's interview with Jaanika Merilo via the link.