Biopharma and UNIT.City are recognized as one of the best projects in independent Ukraine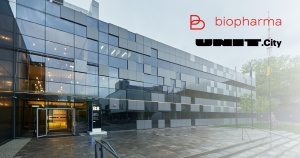 For the thirtieth anniversary of Ukraine's independence, LIGA.net has prepared a list of the best projects that have been implemented in the country during this time. The top thirty also includes two projects from the portfolio of the holding company UFuture.
UNIT.City Innovation Park
UNIT.City is the first innovation park in Ukraine, which was opened on the territory of the former metropolitan motor plant in 2017.
The main investor and ideological inspirer of the park is the founder of the holding company UFuture Vasyl Khmelnytsky. The goal of UNIT.City is to become one of the largest centers of innovation in Central and Eastern Europe. It is a point of entry into Ukraine for companies, investors, and partners from around the world and a place where modern projects and startups will be and are already being created.
Biopharma
Innovative pharmaceutical company for the production of blood plasma drugs. Biopharma's main facilities are located in Bila Tserkva.
Biopharma is one of the ten largest Ukrainian manufacturers of drugs, and a third of the company's revenue comes from exports to various countries.
"The thirtieth anniversary of Ukraine's independence is a good reason to remember the significant projects that have moved the country forward. Our list includes grandiose infrastructure projects like the Chernobyl Shelter and tectonic political shifts, such as visa-free travel. (...) they all influenced Ukraine," the journalists write.
The full list of outstanding projects of independent Ukraine can be found via the link.