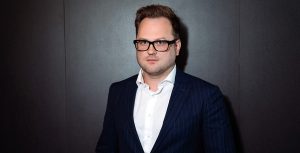 "After the Second World War, humanity is experiencing a similar crisis for the first time and this will accelerate the transition to new models of sustainable development," Nicholas Tymoshchuk, CEO of UFuture
Even the smartest economists and the most experienced politicians were wrong in their predictions when assessing the events around them through the prism of past experience — it's like driving forward, constantly looking only in the rearview mirror. That is why the world's intellectual elite, despite understanding the cyclical nature of economic crises, could not predict another recession in the global economy due to the global epidemic, said Nicholas Tymoshchuk, CEO of UFuture.
In his online interview at the forum "Sustainable Business" from Delo.ua, the top manager points to the trigger points of the global domino effect in the global economy and talks about the values and effective business models that can help companies transform due to coronary crisis and become on the path of sustainable development.
The global economic crisis has been awaited for the last two years — it was discussed both in Davos and during the Kyiv International Economic Forum. However, few predicted that it was the epidemic — the coronavirus — that could trigger another economic downturn around the world.
The first guarantee of sustainable development is the priority of any business: to solve long-term and vital "pain" of the consumer.
The second mandatory characteristic of sustainable business development is flexibility. If your business model cannot adapt to a world that is changing faster and faster, you have no future.
Any organization must directly or indirectly improve people's lives. After all, it does not matter how effective your business model is or what your margin is if there is no one or why to buy it.
In the absence of the principles of sustainable development, in the long run, the company will lose both consumers and competitive advantages.
Any ecosystem, like a multidisciplinary holding company, works only if each of its elements or portfolio company is self-sufficient, independent and competitive. Every business must earn money, assets and the reputation of the holding, and not exist only because it is part of the holding or ecosystem.
For many, the crisis is the only stimulus for change. Also, the crisis usually accelerates previous trends, not cancels them.
Ukrainian chernozem, so far, is a stable source of income for Ukraine, however, countries with raw material economies have never been successful. Therefore, it is important to invest in creating added value in Ukraine and in increasing the export of expensive finished products — both in the agricultural sector and in pharmaceuticals or IT. Also, absolutely everyone needs to invest in innovation.
More on the principles of sustainable development of successful companies, see on Nicholas Tymoshchuk's online speech at the link.