5 BOOKS FOR BUSINESS, RECOMMENDED BY VASYL KHMELNYTSKY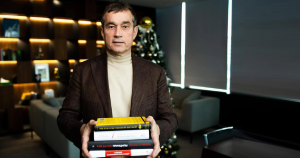 "Tell me what books you read, and I'll tell you who you are" – the founder of UFuture holding company Vasyl Khmelnytsky is convinced that high-quality literature is necessary for an entrepreneur. A businessman, and anyone who cares about personal growth, should study about 15% of the time. Then it is important to put the knowledge into practice. In one of the episodes of his YouTube channel, Vasyl Khmelnytsky talked about five world bestsellers that impressed him the most and which he advises to those who plan or are already an entrepreneur.
'The 7 Habits of Highly Effective People' by Stephen R. Covey
"The book is a Bible for an entrepreneur. It reveals the basis of any business process. At the same time, it is not only about business, but also about relationships in general. I got a lot from it, for example, the win-win principle: to make both you and your partner win," said Vasyl Khmelnytsky.
All 7 habits mentioned in the book, he adds, worked a hundred years ago and will work a hundred more. Those who have already read the book and maybe even remember what it is about, he advises to read again – over time, with new experiences, the book is perceived differently.
'Principles. Life and work' by Ray Dalio
The book is good to those who have already achieved success, who have gone through a difficult school of life. Vasyl Khmelnytsky admitted that he had a lot of unprofitable projects. He lost a lot of money, but earned more and created a cool team.
"I completely agree with many of the author's conclusions. This is a book by a man who has achieved success. It will help be more effective for those who are practitioners, who are building a billion-dollar company. Of course, not everyone will achieve that, even I haven't yet, but we all strive for that," added the founder of UFuture.
'Skin in the Game' by Nassim Nicholas Taleb
No matter what we say, no matter what we dream about, if we do not risk our own "skin", do not take risks, do not invest in business our own money, which we can lose, most likely we will not succeed.
'Thinking, Fast and Slow' by Daniel Kahneman
Due to haste and emotionality, Vasyl Khmelnytsky said, he lost a lot of money. He did not learn the processes, the market, the competitors, but started the businesses because of raw enthusiasm. As a result, he lost money. To not get into the same situation, he advised to spend as much time as possible on preparation: analysis, market and competitors research, etc. Once you are convinced that the project is promising, quickly implement it.
'Red Pill' by Andrey Kurpatov
A book about how the human brain works.
"Before you go on a big business trip, you need to understand how the brain works. You need to learn how to acquire positive habits, get rid of bad ones. How to stop complaining about life, start thinking positively, look for your niche. This book tells about it, and if you read it, you will definitely be one step ahead of those people who have not read it," Khmelnytsky said.
Khmelnytsky advised to read books thoughtfully, slowly, noting the key ideas – you will remember it better. Another useful practice is to read a book with a team. This is especially important for team building and corporate culture.
Watch more about Vasyl Khmelnytsky's favorite books at the link.