"We don't just hold assets, we manage them," Nicholas Tymoshchuk, CEO of UFuture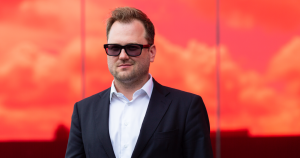 UFuture does not dictate its businesses what to do, but helps them grow. It invests in the businesses of the future and manages assets as an investment portfolio. UFuture CEO Nicholas Tymoschuk in an interview with LIGA.Business told how the holding company was created, what business philosophy management implements today, and what assets are currently of interest to UFuture founder Vasyl Khmelnytsky.
On how the holding started
Before the starting of the UFuture there was a request from shareholders for a transparent business structure. Today the holding is in the process of formation, currently formed by 80-85%. The holding company owns shares in various businesses: innovation parks UNIT.City, LvivTech.City, UNIT.Kharkiv, Biopharma, UDP Renewables, ITernal group of companies, Bila Tserkva industrial park, UDP, Plank Electrotechnic. There are plans on moving the majority share of the founder Vasyl Khmelnytsky at the Kyiv International Sikorsky Airport to the holding company.
On joining the UFuture
I joined the UFuture after the invitation of Vasyl Khmelnytsky, who first proposed that I establish a representative office of the Union of Industrialists and Entrepreneurs in Brussels to promote Ukrainian business in Europe. I did it: I worked with government agencies of the European Union and the United States. Then Vasyl Ivanovich offered to work in his business.
On UFuture strategy
UFuture's strategy is not just to hold assets, but to manage them as an investment portfolio. Our goal is for all businesses under the management of the holding to work under one brand and according to a single logic. Assets must balance each other. Sometimes profits from one business outweigh the losses of another.
"The UFuture system is not vertical, but horizontal. In all the businesses, we are not 100% shareholders and do not dictate to them what to do. We have managing partners in all businesses."
We are mainly majority investors who, if necessary, help their businesses to develop – with resources, acquaintances, experience. And when it is not necessary and the managing partner has experience and expertise, we do not bother them. We are waiting for the business to gain momentum and get out of it. We get good money for it and start building something new. We are developers in our DNA.
On future plans
The founder of UFuture, Vasyl Ivanovych Khmelnytsky, focuses on the strategic development of assets like the UNIT.City innovation park. These places are not just about real estate. These are platforms for the development of something bigger: innovations, technologies, etc. Vasyl Khmelnytsky wants to develop this.
In general, we are investing in the future: pharmaceuticals, renewable energy, development of digital and innovative ecosystems.
Read more about the history of UFuture development, top management approaches to business, and the future of the innovation asset ecosystem via the link.