Three markets that grew during the pandemic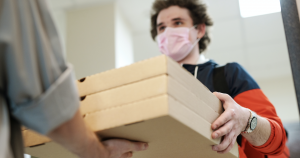 Despite the fact that Covid-19 has hit most businesses in Ukraine and the world extremely hard, some of them have been able to develop against the background of forced restrictions.
Delivery
DoorDash, UberEats, Grubhub, Postmates — the most popular food delivery services in the United States from April to September 2020 received $5.5 billion in revenue combined, which is twice their revenue for the same period last year.
In Europe, the leaders are Uber Eats, Glovo, Delivery Club, Just Eat and Deliveroo.
In Ukraine, the first positions are again held by the Spanish Glovo, the domestic Rocket and the Estonian Bolt Food. The service of Ukrainian origin — Rocket — operates, in addition to our country, in the capital of the Netherlands, Amsterdam and in the capital of Cyprus, Nicosia.
"Cyprus was the starting point before entering new European countries. So far, we have honed the technical nuances and multilingual applications and prepared a team for large-scale international expansion. In particular, an office has been opened in Amsterdam to deal with new markets," said Oleg Lyubarets, Marketing Director of Rocket, referring to the markets of 10 new countries.
Most of the favorite gourmet establishments around the world could already go bankrupt if the restaurant business did not start working on delivery.
However, restaurants are not required to connect to courier services. Thus, the Ukrainian company of technological solutions for food delivery, Dots Platform, began to provide its services to third-party players. Ukrainian restaurants, dark kitchens and other players can, within two weeks, as the company assures, launch their own high-quality delivery service. Dots Platform has already been used by restaurateurs Dmitry Borisov, Igor Sukhomlin and Savva Libkin.
Finally, non-restaurant delivery services have become popular. The large US supermarket company Instacart raised $265 million in the next round of financing and reached an estimated value of $39 billion. Today, according to the CB Insights rating, it is the fifth most expensive "unicorn" in the world.
A similar Ukrainian service for the delivery of Zakaz.ua and Liki24 products, which bring drugs from pharmacies, also announced rapid growth in orders. Nova Poshta and Ukrposhta report an increase in the number of items.
Online education
"If you want to sell something, you have to have an audience to which you can sell it," said James Chen, author of book "Udemy Marketing: A Step-by-Step Guide to Increasing Your Udemy Course".
Last year, the American online education platform Udemy joined the world's elite club of "unicorns", reaching an estimated value of $3.2 billion.
Since the beginning of the pandemic, according to a report by the World Economic Forum, the number of people looking for opportunities to study online on their own initiative has quadrupled. Global Market Insights predicts that the global online education market will grow to $375 billion by 2026.
In addition to the pandemic, in their opinion, eLearning will stimulate:
growth in smartphone sales;
digitalization of traditional education (universities, colleges);
partnerships between technology corporations, startups and institutions.
Online education, according to analysts, will not only grow but also be segmented. The demand for individual and expanded training services will increase, the customer orientation of the industry and the efficiency of the training decisions will improve.
Entertainment
Epidemiological restrictions have hit the film and concert industry hard — the offline entertainment market as a whole. Cinemas and concert venues are really empty, but the audience of streaming services is growing rapidly.
According to Statista:
Spotify grew by 31 million paid subscriptions in 2020 (155 million paid users against 124 million in 2019);
Netflix has reached 203 million paid users worldwide;
the number of Youtube users, meanwhile, reached 1.78 billion (in 2019 — 1.68 billion).
According to Statista's forecast, by the end of 2021, Youtube will have 1.86 billion users worldwide.
Against this background, there is a boom in sales of game consoles. In January 2021 alone, 1.6 million Nintendo Switch, 263 thousand PlayStation 4 and 91 thousand Xbox One were sold. At the start of the pandemic, Japan's Nintendo released Animal Crossing: New Horizons for its super-popular console, selling 13 million units in just the first six weeks. Currently, the number of sales exceeded 30 million units.
Animal Crossing: New Horizons takes the player to a desert island, where he builds his "paradise". He catches fish, processes objects, digs, sells and generally makes the island the way he wants — isn't it an ideal option to spend time at home in quarantine…?