"Six tips on how to successfully launch innovations in the company," Dominique Piotet, CEO of UNIT.City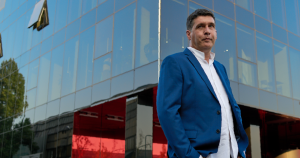 Corporate innovation is a key factor for those who want to stay in the game. Innovation must be at the heart of the strategy and management at the highest level. CEO of UNIT.City Dominique Piotet in the column for Forbes named six things to consider when implementing innovations.
Understanding the ever-changing landscape
You may seem very innovative, but it is likely that you are introducing minor innovations and improving existing products. In the digital age, you sometimes need to work on more radical innovations if you want something big.
The hotel industry did not expect Airbnb. The taxi industry did not expect Uber. The automotive industry did not expect Elon Musk to create a company that would produce the most desirable electric cars in the world.
Leadership as the key
Innovation is not just a matter of investment, technology, and the right roadmap. Innovation is impossible without proper leadership. If you do not have proper leadership, you will not find the right path to development.
Global innovation, not local
It is impossible to innovate by looking at the market locally. Even small companies can become world leaders when it comes to innovation. When Facebook came along, no one could have predicted that it would receive the lion's share of advertising budgets. At the beginning of its existence, Facebook was a niche technology developed for colleges, and now it is a world leader.
Interest
Corporate innovations rarely involve a change within the company. It is necessary to understand and monitor the ecosystem of startups in general; work with accelerators and venture capital to understand who is innovating in your industry.
Culture eats strategy for breakfast
Working on company culture is a must. Too many companies have lost because management has been too arrogant and unprepared for change. This is a classic problem. If you don't pay attention to culture, you will lose the best talents – rebels and creative people who think outside the box and make changes, often do not take root in regulated systems.
Move fast
When you are a leader, it is very easy to get into the "comfort zone". But you can't hold on to success like that. Smaller, more agile companies will emerge from nowhere and change the market. If you do not have time to pick up the pace and keep up with them, you will lose market share and possibly leadership. So, move, move, move!
Read more about how companies stay innovative via the link.