"Money follows business," Partner and CFO of UNIT.City Kyrylo Bondar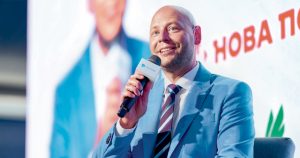 Regardless of the size of GDP and the growth rate of the country's economy, money still goes to business. Therefore, reflecting on Ukrainian lending, the partner and CFO of UNIT.City Kyrylo Bondar believes that interesting projects, ambitious goals and teams of entrepreneurs are exactly what banks will follow. The financier told magazine "Business" about the monetary resource for small and medium-sized businesses (SME), financial models 2020 and the country's credit policy.
Where to get SME money?
There are standard solutions: bank loans, which should be used because they are an available resource. There are also government programs administered by banks. There is a non-banking financial sector to attract financing. All this suggests that there are more free credit resources on the market than real projects that need them, given the business models and requirements of lenders.
Why is SME not a priority lending segment?
First, the share of small and medium enterprises in the structure of the economy is generally insignificant. Second, when lending to SMEs, the costs of financial institutions are much higher than when servicing the needs of big business.
Will the state's monetary policy towards SMEs change?
The policy change is the only way the economy has it now. There are few examples of prosperous countries in the world where the whole stakes are only in the corporate sector, large corporations or state-owned companies. Because SMEs are at the heart of these successful economies, providing people with new jobs and opportunities. But on the way to changes in monetary policy are the well-known diseases of young democracies — non-compliance with property rights, non-compliance with laws and court decisions, big bureaucracy, corruption. And, unfortunately, by writing a few more laws, we will not revive lending to the real sector of the economy, business in the bank should arouse interest to get a loan.
What is interesting about the crisis for SMEs?
Crisis and economic cycles are essential attributes of modern life. We live either in anticipation of a crisis, or in a state of crisis, or coming out of a crisis. Many companies see the crisis as an opportunity: it is at this time that processes, approaches and models are being reinvented. This is the order of things that is interesting – it makes us equal in many ways. Now, even an outsider on a par with a major player has the opportunity to review the business, model and start in a new segment or with new approaches, becoming a leader in the industry.
How to become an SME successful?
Business success depends on the chosen niches. Of course, there are trends. Today they are generally the same: IT, education, innovation, high-tech, medicine. In Ukraine, there is still the processing of agricultural raw materials and logistics. But you should not just look for a unique business niche, because in almost every industry you can create a successful business, even in very traditional segments. The question is how you do business, how strong your team is, what skills you have, your inner culture, who your customers and partners are. If all is well, they will come to you with money.
Read more about the current situation, prospects and urgency of the development of Ukrainian SMEs via the link.