"Innovation Park is a tasty morsel for big international capital," Kyrylo Bondar, partner & CFO UNIT.City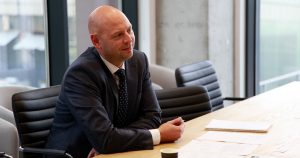 It s known that during the "corona crisis", the UNIT.City team managed to raise more than $120 million — to obtain a loan from the European Investment Bank and investments of the Kovalska Group. In his column on NV, Kyrylo Bondar, partner and CFO of UNIT.City, spoke about how the team gained significant capital in difficult economic times and the future of Ukraine's first innovation park and the importance of investing not just in real estate but in the ecosystem.
Costiantine Yevtushenko, managing partner oUNIT.City and Serhiy Pylypenko, CEO Kovalska met by chance in the gym. When the values ​​of the partners coincide, it is possible to achieve truly exceptional results.
We are building an ecosystem, not just business campuses, so we are open to exciting collaborations and collaborations.
With each partner, we are looking for a form of cooperation that is ideal for both of us. Our financial interaction with Kovalska is of a mixed nature — it is both debt capital and returns on equity. We guarantee a specific return to our partner.
We strive to comprehensively manage processes because it's all just square meters without an ecosystem, which is cheaper or nothing at all.
If you are only interested in money, then there is no need to invest in UNIT.City. The project's uniqueness in its countercyclicality and illogicality within the risky conditions of investing in a country like ours. If we don't do that, there will be no change. Investors will be engaged only in trade and highly profitable businesses in the distribution of goods.
Currently, our partners in investment and construction are located on the territory of the park — UNIT innovation park, UFuture holding company, UDP developer, developers KAN Development and Kovalska. However, later on, mostly educational and infrastructural projects will be created on the territory, which is necessary for business in Ukraine.
First of all, we plan to allocate funds for the construction of 5 new campuses. UNIT.City is a capital-intensive project with low profitability. We can't have a high price for renting an office, because companies that are just starting their business do not have much money.
Read more about examples of successful investment attraction, terms of obtaining loans from the European Investment Bank and plans for developing the first innovation park in Ukraine and partner projects via the link.