How to develop and promote intellectual volunteering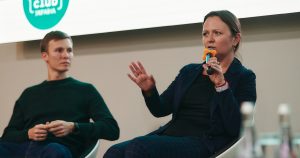 On October 17, 2020, was held the all-Ukrainian meetup "Mentoring as a trend", organized by the all-Ukrainian network of free coding clubs for children aged 8-13 Code Club Ukraine. Invited speakers of the event and participants of the thematic panel were CEO ucode Florin Bicher and the president of the K.Fund foundation and the head and member of the supervisory board of the School of Small and Medium Entrepreneurship Lidia Pashchuk.
During her speech, Lidia Pashchuk spoke about mentoring in her own life and about the promotion and role of volunteering in the foundation and the school in particular.
Children, schoolchildren and students mentoring every day. They need to be encouraged and encouraged to help seniors and juniors because mentoring is useful, cool and very right.

Vasyl Khmelnytsky, the founder of UFuture holding company and the K.Fund foundation, also emphasizes the importance of the ecosystem, where the main principle is to give not a fish, but a fishing rod. I follow the same rules of mentoring in the School of Small and Medium Entrepreneurship and in my teaching practice. In the company, we came to the conclusion that it is not necessary to change the minds of Ukrainians in adulthood, but it is worth starting to work with their heads in childhood.

Mentoring is a professional patriotism. When you have closed your basic professional needs, there is a need to share.

Last year at KIEF-2019, founder of Alibaba Jack Ma said that the greatest consolation for a teacher is his successful student. I also dream that my students will be on the Fortune 500 list.

You can only inspire volunteering on your own example. Sell ​​the idea with applied stories, organizations, philosophy of the community in which the volunteer is and can move twice as fast.
Discussing the trend towards a healthy attitude towards intellectual volunteering, Florin Bicher shared his vision of mentoring in the IT field and offered ideas for promoting this area by creating digital tools.
In the technological field, the concept of mentoring is completely integral to the work process and has been widespread for many years. We call it "karma", we're helping to overcome the complex and basic processes of starting a beginner – you can be sure that at least out of a sense of social gratitude, he will later help the junior next time.

Mentoring is about high values, help and a desire to share knowledge. To promote this area, you need to create opportunities, tell people what it is and that it exists at all. It may be worthwhile to create a platform where someone will look for a mentor and someone will become one.

In our educational projects, we apply the principle of peer-to-peer, where high performance can be achieved only with the involvement of teammates or higher in rank and degree of understanding of the processes of mentors.

How do you become a mentor? There is no key starting point in this process. But during your career, receiving some expertise — you can already become a mentor. At the same time, psychological maturity is important, which is manifested not in the pursuit of success, but in the awareness of value and self-development by teaching others.

Mentoring is about higher values ​​than service for money. If you do a service to another for a reward, you can't call it volunteering. Otherwise, the very principle of it as assistance on a gratuitous basis is devalued.
Listen more about the values ​​and goals of mentoring and its development in the Ukrainian reality by following the link from the live recording of the event.