Five consequences of the pandemic for industry from Volodymyr Khmurych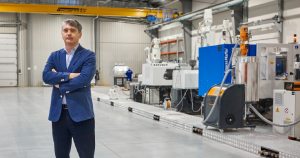 In the first half of 2020, industrial production in Ukraine decreased by 8%. Now among the most affected industries are mechanical engineering, metallurgy and light industry. Business surveys show that up to 20% of companies have stopped working, another 30% have reduced production and changed their work schedules. Volodymyr Khmurych, Director of Bila Tserkva Industrial Park, spoke about the other five consequences of the industry crisis.
Reduced profits and reduced investment
Financial reports show that companies are abandoning programs to modernize fixed assets and reduce investment by 10-16%. If we analyze producers' activities in previous crises, this figure may deteriorate to 32-35%. Falling market demand, falling product prices and declining net income complicate the situation.
Increased costs to ensure the protection and safety of workers
From 2020, production has increased the cost of protecting employees' health: the purchase of personal protective equipment and remote temperature screening systems, disinfection of industrial, office and warehouse facilities, the introduction of work on construction sites, taking into account the social distance. Companies organize their employees' transportation to the place of work to reduce the spread of the pandemic through public transport. The budget for health insurance services is also growing. In general, business expenditures on labour protection measures last year increased by 18-27%.
Introduction of the principles of ecological and economic production
Obviously, the corona crisis has drawn producers' attention to the importance of rational use of resources. Big business has the financial and human resources to reduce electricity, natural gas and water resources. These measures aim to reduce production costs and integrate into global production and marketing chains, compensating for financial losses through the lockdown.
The supply chain protection
We are just joining global supply chains and are gradually starting to export high value-added products. Drivers in this area are enterprises of the agro-industrial complex and the pharmaceutical industry. However, this year's supply chain failure had a weak effect on the work of enterprises. Enterprises with foreign capital suffered relatively significantly, less so with domestic ones. However, both business groups have gained practical experience in crisis management.
Automation of technological and business processes
The value of digital transformation for companies became even more significant during the pandemic. Connecting and using a resource planning system has helped keep business processes efficient in quarantine. In particular, some staff continues to work remotely. Automation of critical processes has increased productivity by reducing employee participation in the full production cycle.
Read more about overcoming the effects of the pandemic and changing the country's economy in the column via the link.