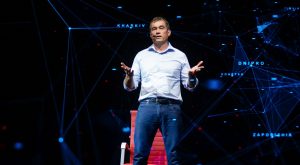 Vasyl Khmelnytsky will speak at the forum of small and medium business representatives
On August 28, more than 1,000 entrepreneurs and 40 well-known speakers will meet at the UNIT.City innovation park. Headliner "SME Forum. Reboot" will be the founder of the holding company UFuture Vasyl Khmelnytsky.
The purpose of the event is to help small and medium-sized businesses identify promising directions in a changing world, equip them with the necessary knowledge and tools, and inspire a powerful restart.
The event will be useful for business owners, managers, as well as beginners who want to turn their ideas into business.
You can learn more about the forum, details of 12 thematic panels and get a ticket to the event by following the link.