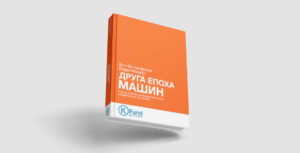 VASYL KHMELNYTSKY'S K.FUND PRESENTS TWO GLOBAL BESTSELLERS ABOUT NEW TECHNOLOGIES THAT WERE NOT PUBLISHED IN THE CIS
Two bestsellers analyzing the latest technology trends and the role of leaders were published in Ukrainian.
Kyiv, April 20, 2016 – Vasyl Khmelnytsky's K.Fund has represented two new global bestsellers translated into Ukrainian: Bold: How to Go Big, Create Wealth and Impact the World by Peter Diamandis & Steven Kotler, and The Second Machine Age: Work, Progress, and Prosperity in a Time of Brilliant Technologies by Erik Brynjolfsson & Andrew McAfee.
The books were presented at the largest book platform of Ukraine, VI International Arsenal Book Festival, as well as at the largest event for IT professionals, iForum 2016. This year K.Fund was the general partner of these events, as they provide new opportunities for personal and professional growth. The fund's mission is to give keys for development and self-fulfillment, provide opportunities for new knowledge and skills, encourage discoveries and promote them to a new level.
"Driven by new technology, the world is changing rapidly. Each year we see thousands of new applications, business solutions and innovations. Young technology companies challenge commodity giants, changing the balance of power and the global competition. The winner is the one who is faster, bolder, and more proactive. Our new books are about these leaders and their companies. They should become handbooks for those who want to succeed in high technology" said Vasyl Khmelnytsky, Ukrainian businessman and the founder of K.Fund.
Bold and The Second Machine Age have already received high scores from global leaders and technology experts. Bill Clinton, 42nd US President, said that Bold was a visionary roadmap for people who believe they can change the world, as the book offers invaluable advice about bringing together the partners and technologies to help them do it. "Although a few others have tried, The Second Machine Age truly helped me see the world of tomorrow through exponential rather than arithmetic lenses. It frames a future that is genuinely exciting!" said Clayton M. Christensen, Kim B. Clark Professor of Business Administration, Harvard Business School, and author of The Innovator's Dilemma. These editions of Bold and The Second Machine Age are the first in Ukraine, and have not been published in Russian as well. K.Fund has the exclusive rights for the publication in Ukrainian.
Vasyl Khmelnytsky's K.Fund is introducing a model of continuous education in Ukraine, and is assigning a specific role to books. The Khmelnytsky's Library project plans to introduce Ukrainian audience with the world's best books in education, economics, and entrepreneurship. The list of shops, where you can buy the books published by K.Fund, is available at this link.