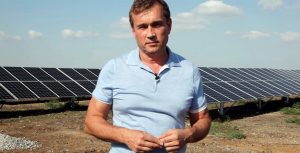 Vasyl Khmelnytsky Opens SPP In Kherson Region
Businessman Vasyl Khmelnytsky has announced opening of a new solar power plant (SPP) with the capacity of 18 MW in the village of Rykove (Kherson region). Kherson region is becoming an absolute leader in SPPs' constructing in Ukraine. According to the National Commission for State Regulation of Energy and Utilities, in the second quarter of 2018 alone, Kherson region housed SPPs with a total of capacity of 61.7 MW. That is related to high sun intensity in the region, which makes building SPPs here 18% more efficient than in Kyiv region.
Khmelnytsky has written this on Facebook.
"We've invested USD 18 million in the SPP and hope it will pay back in the coming 5-6 years. Nowadays, Ukraine offers significantly beneficial conditions for development of the solar energy business. Thus I'd like to recommend my colleagues construct plants of any size starting with 0.5 MW. The payback period may amount to 4 to 6 years depending on a district. I believe this is a good business," he said
The Khmelnytsky's SPP is located on the industrial area of 32 hectares. The entrepreneur leases the plot from a local community. The businessman also notes that all the SPP's equipment except the solar panels themselves was produced in Ukraine.
This is the second SPP built by Vasyl Khmelnytsky. In the village of Dymerka (Kyiv region), Vasyl Khmelnytsky along with his Spanish partners is currently building another SPP with the peak capacity of 57 MW, which will make it the largest solar plant in Ukraine. The plant's first phase has already been commissioned and has the capacity of 6 MW.