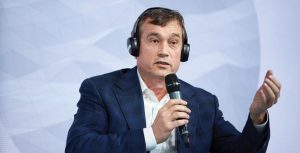 Vasyl Khmelnytsky: "Blue Ocean Strategy" inspired me to create UNIT.City"
On November 16, a panel discussion on "Value Innovation in Central and Eastern Europe" was held with the participation of the renowned professor and best-selling author of the "Blue Ocean Strategy", Chan Kim, at Academy DTEK. Vasyl Khmelnytsky, Founder of UFuture, was among the speakers.
During the dialogue, representatives of the government, business, and thought leaders — moderator, Pavel Sheremeta, and speakers, Vasyl Khmelnytsky, Maxim Timchenko, and Tymofiy Milovanov, discussed economic vectors and principles of enhancing competitiveness and unlocking the country's potential. In particular, they raised questions about the application of the "Blue Ocean Strategy" for Ukraine and key factors for securing an economic breakthrough. According to Vasyl Khmelnytsky, these key factors are the development of IT, infrastructure and Ukrainian talents that are in demand in innovation centers around the world.
According to Vasyl Khmelnytsky, attention should be paid to innovative and industrial parks, the development of which within the framework of the "blue ocean" strategy is provided by the entrepreneur.
"I first became acquainted with Kim Chan's work 10 years ago. The bestselling author impressed me with his energy and lecture, and the book "The Blue Ocean Strategy" impressed me and inspired the ideas for the creation and development of UNIT.City," Vasyl Khmelnytsky said.