"Ukraine's technological potential is huge," Dominique Piotet, CEO of UNIT.City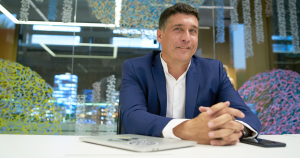 IT education in Ukraine is at a high level, and Ukrainian programmers and engineers are highly appreciated. We need to convert this potential into concrete successful cases, join our efforts and provide startups with support, access to finance, markets etc. In his interview with bit.ua, the CEO of the UNIT.City innovation park Dominique Piotet spoke about achieving success in the field of innovation.
How to attract investment
It is really difficult to attract investments. Only 10% of startups manage to do that. If you really need investment, you should talk about your product as often as possible: events, networking, acceleration programs are there for you.
Differences between Ukrainian and French IT business
There is no big difference in technology in Ukraine, France, China or Silicon Valley. Technologies have no nationality. However, there are differences in the quality of technology, due to the quality of education and the specifics of the functioning of the technological ecosystem.
What is the main sign of a startup's success
If a startup solves a problem, it's half the battle. Product/market fit is one of the key success factors. If a startup grows, it can also be called successful.
Is Ukraine technological
Ukraine's technological potential is huge. NEST Bootcamp, SectorX accelerator and other programs based at the UNIT.City innovation park demonstrates excellent dynamics in the development of startups. Now you need to convert this potential into concrete successful cases.
A good startup can be born in a garage. But to succeed it needs to deal with other garages, he needs an ecosystem. UNIT.City creates more and more formats for effective networking and pays great attention to the development of startup and business culture.
Read more about how the technology industry of Ukraine works and what a startup needs to succeed via the link.