"Ukraine's education system needs to change: we still do not have business and IT education," Vasyl Khmelnytsky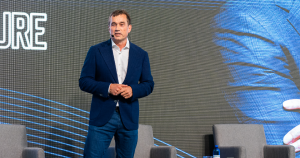 On August 19, the all-Ukrainian educational forum "Education of Ukraine 30 without Barriers: Vectors of Quality and Success" took place in the innovation park UNIT.City, developed by the holding company UFuture. Participants of the forum — educators, heads of universities, managers from different regions of Ukraine and all concerned about education — listened to greetings from President Volodymyr Zelensky, Speaker of the Verkhovna Rada Dmytro Razumkov, and learned about the main achievements of Ukrainian education over 30 years of independence from Minister Serhiy Shkarlet.
The Head of the Ministry of Education identified the following key milestones in the development of Ukraine's education system:
initiation of lifelong education;
the first educational state standards;
approval of the social status of the teacher;
accession to the Bologna process;
introduction of external evaluation;
formation of the institute of the Ukrainian textbook;
introduction of inclusive education;
start of the New Ukrainian School;
development of distance education.
"There are many shortcomings, but the main thing is that all these years our education has developed, we have moved forward, got back on our feet," said the Minister.
During the 30 years of independence, he added, 1,324 Ukrainian students have received awards worldwide. 674 medals won at international competitions; Pupils of the Small Academy of Sciences brought 393 awards. The Minister presented a special award to Victoria Panchenko, a Nova Kakhovka Secondary School student, who received a bronze award at the prestigious American scientific competition Genius Olympiad.
In the future, the Ministry, according to Serhiy Shkarlet, will focus on the development of the following elements in education:
support of the intellectual elite;
ensuring barrier-free education;
quality and safe food;
prevention of bullying and cyberbullying, etc.
The founder of UFuture holding company, Vasyl Khmelnytsky, who supports the development of various educational projects — from K.Fund School and SME School to Novopecherska School and Unit School of Business — shared his vision of the state of education in Ukraine.
"The education system needs to be changed. Our schools do not have such disciplines as entrepreneurship, business, IT. It was not and, to be honest, not yet. The country still lacks entrepreneurs. Therefore, those cities and regions of Ukraine that really want to develop, need to simultaneously build, say, industrial parks and change the education system," said Vasyl Khmelnytsky.
Artem Boyko, CMO UNIT.City, added that the team of the innovation park is very pleased to receive educators and distinguished guests from different regions of Ukraine:
"Despite the fact that we work with the technologies of the future every day, the real future depends on you," said Artem Boyko.
See the full version of the All-Ukrainian Education Forum via the link.