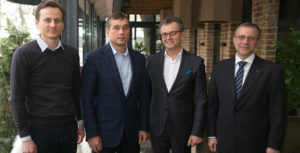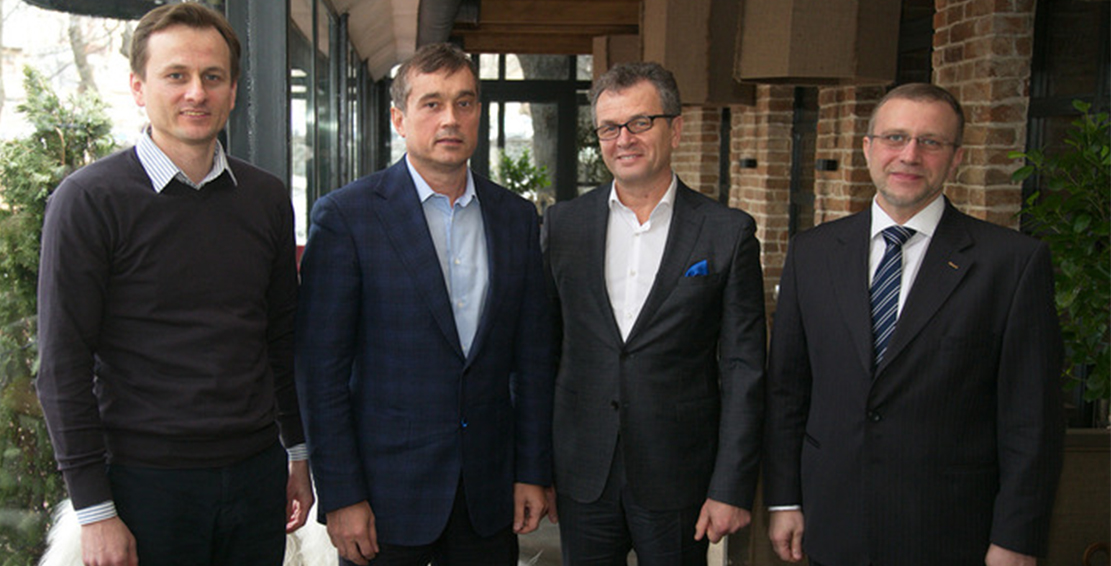 Why does Ukraine need technology parks?
A review of the Forbes Breakfast with Vasyl Khmelnytsky, Yevhen Utkin, Mykhailo Shmelyov, and Serhiy Kiral
Why is it worth learning from Israel and Poland when creating technology parks? What tax level should be introduced for the IT industry? How much does it cost to raise a top-notch specialist and why Ukraine should stop outsourcing? These are the questions discussed at Forbes Breakfast by businessmen Vasyl Khmelnytsky and Yevhen Utkin, director of technology policy at Microsoft Ukraine Mykhailo Shmelyov and the head of the department of foreign economic relations and investment at the Lviv City Council Serhiy Kiral.
– Industrial parks are considered a kind of panacea for Ukraine's economy. But some hold the opposite view, saying artificially created conditions for cooperation in a certain location will not work in Ukraine.
Vasyl Khmelnytsky: Industrial parks and high-tech parks, despite their different formats, can serve as a point of economic growth. Many developed countries have walked the path of the creation of such parks. For example, in Turkey there are over 290 industrial parks, while 30% of China's economy is located in free economic zones and industrial parks. In Poland there are 81 industrial parks and 14 free economic zones. Should I, as an investor, choose Poland or Ukraine? Where, objectively, is there less risk? Probably, in Poland.
– At the same time, the potential for profitability can be higher in Ukraine.
Mykhailo Shmelyov: Along with high profitability come higher risks. In fact, the investor will choose the country where there are objectively fewer risks.
– If we consider technological parks as an opportunity to reduce risks for investors, there should be communication with the government, with the business community. But I wish everything was so simple: you build a park and there comes the investment…
Yevhen Utkin: The country has limited resources – temporary, human, and financial ones – so focus is needed, as well as the point of crystallization. In my opinion, Ukraine should have three priority areas: defense and security, agriculture, energy and energy efficiency, and maybe health care. The development of high-tech, information technology, bio- and nanotechnology, electronics and microelectronics will be most promising in these areas.
The fastest development will be high-tech in agriculture, as it is the only sector of the Ukrainian economy that has a global significance. Ukraine has confidently become one of the top five global players with huge prospects of growth through the use of technologies and increased business efficiency. So, if we compare our country, for example, with Germany, our average yield is approximately 2.5 times lower. In addition, if in our financial sector and telecommunications, technology penetration is approaching 100%, in agriculture, however, it remains minimal. We have a huge home market at our disposal where technological world champions can be raised as the smart agriculture industry is just starting to emerge.
M.S.: Growth in demand and consumption within the country should in the first place be stimulated by the state. This is the main driver of development of technology parks or economy growth. Microsoft's presence in other countries besides free economic zones shows that consumption has always been stimulated by the state. Israel is a wonderful example. Under the conditions of wartime and lack of resources, it is today a technologically developed country that exports a huge amount of intellectual property products. Indeed, everything started with the military sector, but it stimulated the development of high-tech production. And what are we seeing in Ukraine? Initially, a country with huge potential in the IT industry exports its capabilities and talents of our specialists. Partly R&D offices of global leaders in the IT industry are located here. It's Microsoft and Cisco, Google and Apple. The following is happening: Ukrainian specialists create a product for foreign companies, and then Ukraine buys this product.
– Speaking of the state's initiative, do you mean by government order?
S.: The state should consume its domestic product and focus on what is produced in the country. But there is no such consumption culture in Ukraine. In addition, there is no coherent development strategy for the state. There is no state vision for this project. There are some good initiatives, though. But as soon as these initiatives fall into the state program, they immediately become a kind of unrelated set of activities, while no one analyzes their effectiveness.
The key step should be the introduction, setting out the direction of our actions, the rules to play by, which, in turn, should not change. First of all, it's about taxation and customs duties. Microsoft orders part of R&D, but we are not participating. The risks in this case are minimal. Why is it necessary to minimize the risks? The investment-attractive climate for foreign companies is lacking. We see policy instability and the lack of strategy.
When we talk about creating jobs, the main argument to investors should not be that there is cheap labor in Ukraine.
W.: It's not so much about fighting for government orders, it's rather about attracting international players such as Microsoft or Boeing, to have, say, 2,000 people working here, not just 20. In Russia, Boeing employed over 500 people in R&D, while Intel had several hundred people. Today, it would seem that all of this could be transferred to Ukraine, but the state does not work to this end and does not conduct any negotiations. Examples of Ireland and Israel show that the integration of transnational players into the national economy by providing concessional business conditions provides rapid growth for the entire ecosystem.
– There are already several technology parks in Ukraine, but how effective are they? Do they really function, or does their effectiveness remain on paper?
Serhiy Kiral: For me, industrial parks and technology parks are an economic and legal instrument for ensuring competitiveness and differentiation in the market. There is one such project in Lviv. It focuses on a specific cluster of automotive manufacturing in the Eastern Czech, Western Romania, Slovakia, and Poland, where several million cars are produced annually. Around this cluster, within 500-600 km, there are many enterprises that produce and provide certain plants (Fiat, Volkswagen, etc.) with accessories and spare parts. At this stage, there is a Dutch investor company which deals with the development and management of this park. They act as developers who can build the production on a turn-key basis. As a result, the investor, who is a producer, simply goes in with their equipment, turns on the machines, hires workers, and begins to produce, and does not engage in any "games" with the government, regional energy companies, tax services, etc.
U.: The success of Lviv can be explained first of all by the fact that the city has its own development strategy. The two main components of the strategy are tourism and IT. It is worth mentioning Poland, where in 1989 the first strategy was developed, the so-called Balcerowicz plan, under which the IMF allocated $1 billion. Today, there are about 200 plans for the development of industries and individual regions. Presidents and prime ministers come and go but the development strategy as a whole does not change. This is a key factor for success. The example of Poland is probably the most relevant for Ukraine. The direction of development must finally be determined. In the conditions of limited resources, the focus is needed. It shouldn't be about giving something to someone in little bits but focusing on priorities and creating the points of growth.
– Which sectors and specific areas should one start with in this case?
V.K.: Our outsourcing is well-developed, but not startups. Today's legislation is abstract, which allows law enforcement agencies to attack IT businesses. As a result, many IT professionals move to Poland or other countries. Recently, in one Belarusian technology park, I was told that they do not see any point in training their own IT specialists because all their needs are covered by top-notch specialists from Ukraine. If in Poland they pay a tax of 10%, why do they have to pay 60% in Ukraine? If the rate is 60%, it's logical that everyone goes to Poland. We must realize this – there is no other option. We just need to legalize the existing conditions. Then we could see a backflow of specialists.
– The official export of IT products in 2014 alone was worth $2 billion, and in 2015 it was $2.5 billion. If we talk about the shadow sector, according to various estimates, it significantly exceeds the official level.
Y.U.: Ukraine provided IT outsourcing services worth the sums mentioned. In 90% of cases, it's not about creating products but simply about the use of intellectual capacity. Indeed, this is a good start, but this business creates only a single job. If we talk about a real innovation economy, biotechnology, microelectronics, electronics, then, a single job creates an ecosystem with dozens of other jobs. That's what we need to develop.
S.K.: Perhaps this is a natural path that just needs to be passed. The same situation we are seeing in the manufacturing sector. In Ukraine, many investors – big foreign companies working on tolling raw materials actually use our human resources and wear out our infrastructure. The scheme is as follows: they import raw materials, process and export them, without creating any new products. This is a transitional phase, but it has been dragging on for 25 years. And we will not move to another level until we create conditions for it, until we reform the system of courts and the system of taxes. Only in this way can we become clear and predictable in the medium and long term, which worries the investor first and foremost.
People have two main motivations in their life: self-realization (self-development) and service. As a rule, self-realization is the main motive in business, while state service still implies serving.
V.K.: When we talk about creating jobs, investors should not perceive as their priority argument that Ukraine has cheap labor. The payment level must be raised and it should be declared that we are so effective that we can make high-quality products cheap. That's what's worth fighting for.
– Investors are beginning to look at Ukraine. For example, George Soros, together with a local investment company, has created a 100-million-dollar fund. Everyone knows his orientation on speculative investments. Perhaps his arrival should be evaluated positively?
Y.U.: On the one hand, it's good if it is a real investment. But in most cases, this is not the case. Such "investments" do not affect the economy at all. Today, all offers of "buyers," which are present on the market, come with an underestimated valuation of assets. For those who create business in Ukraine, such proposals are not interesting.
V.K.: Indeed, now many western funds are coming to our country. But in most cases, these speculative actions are not aimed at creating production capacities here and investing but at buying assets cheap, and then reselling them.
– We are constantly talking about the creation of favorable conditions. But it is not clear who should create them.
S.K.: Today, we are dealing with the post-Soviet method of governance, with a kleptocratic system that does not think of the categories we are talking about. My generation is already perceiving itself as a fertilizer needed to raise a generation of new leaders, new managers who will think strategically. They will be forming teams, realizing that people who work in government and are responsible for billions and strategies must be motivated and paid adequately, especially if we want to defeat corruption.
V.K.: We have already lost the old generation, while we haven't raised the new one yet. Raising a new generation depends primarily on education. I often happen to visit Turkey where I see how the managers who are 50-60 years of age work with young people. There is this synergy: some share their experience, while others share new technologies.
Y.U.: After Maidan, there was a wave of patriotism that highlighted the country's enormous human capital. What has been done by the Ukrainians in this cluster, under normal circumstances, without the ongoing hostilities, would cost hundreds of millions of dollars, and it would take several years to be realized. Everything starts with the most important thing – the definition of where we are moving. At the state level, there should be a systemic and strategic development program, which has been discussed and adopted by the active part of the political elite, society and businesses, not a circumstantial one.
People have two main motivations in their life: self-realization (self-development) and serving. As a rule, self-realization is the main motive in businesses, while the state service still implies serving. Narcissism and populism are the main diseases of Ukrainian politics. We need to create a new trend – to give, serve, and act. Remember how after the Orange Revolution, it was a trend to be polite in traffic? Do you see what I'm saying? We need to bring up our modern heroes.