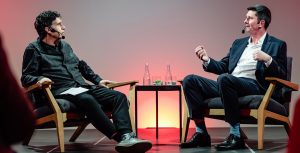 "Ukraine is different from the Valley in that there is a drive," Andy Bynes, CEO of Global Talent
On February 24, at UNIT.City hosted the first meeting of the evening show Bundle/UnBundle.The format of the event is an open conversation between Dominique Piotet, CEO of UNIT.City and invited exclusive guest Andy Bynes, CEO of Global Talent. The latter is an investor and entrepreneur, has worked at Apple with Steve Jobs and Tim Cook for 12 years, and subsequently developed and sold his own startup Nest to Google for $3.2 billion. Now the innovator also lectures at Stanford and Berkeley.
At the meeting, the experts discussed two opposing bundle and unbundle strategies — combining multiple products or services into a single package or differentiating them into separate offers. The clearest examples of this approach are Spotify, Amazon, and Netflix.
At the beginning of the dialogue with Andy Bynes, Dominique Piotet gave an example of the latter, who successfully implemented the concept of integrating a number of products on a single platform in her business.
"There are two approaches to making money. According to James L. Barksdale, the former CEO and president of Netscape is a bundle and unbundle. This concept is used by global and successful companies. Such as Netflix, for example, who came and said: forget about a bunch of TV channels, ISPs and more. Here's one fixed offer for a fixed price — Netflix service," Dominique Piotet said.
Also, the head of UNIT.City Innovation Park discussed with the entrepreneur the principles and features of working with Steve Jobs, his decision to leave his career at Apple for a startup and the decision to choose Ukraine to do business.
"At Apple, I was involved in product design and environmental issues. At a time when most companies were thinking about making production more environmentally friendly, we were designing "greener" products. Working with Steve Jobs was a very rewarding experience. He was very demanding and at the same time most outstanding person I had to work with. Steve called me every Saturday at ten in the morning, and we could talk about a whole bunch of things," Andy Bynes said.
The future founder of a startup left Apple in 2010 along with former iPod development director Tony Fadell. Together, they were able to build a smart thermostat (a smart room temperature control device) for Nest, which was acquired by Google in 2014 for $3.2 billion. Andy Bynes said this in detail during his meeting with Dominique Piotet.
"We worked hard to design the Nest itself, and at the same time, they paid a lot of attention to the software. At the time, we were the only company that combined these two things — control hardware and software. At that time, most companies outsourced the hardware to China and outsourced the software developers. We have completely abandoned this and set ourselves the goal of giving the user the perfect experience. We also managed to cancel the retail process, go into the luxury segment and open a new distribution channel with energy companies. We began to control the air conditioners through our thermostats. And so Nest has evolved from a smart home gadget to a device that has helped power companies control the power supply on particularly hot days," shared the CEO of Global Talent.
Discussing the peculiarities of working with Ukrainian developers and the country as a whole, Andy Bynes noted that he was pleasantly impressed with the potential and motivation of local specialists.
"Ukrainian developers are very ambitious and skilled. When you talk to IT professionals from London or the Valley, you do not feel the drive that is here. Programmers in Ukraine are very inspired and ready to create cool new products. They aren't as full of expectations from their employer as their Valley counterparts. And they can grow very quickly," Andy Bynes summed up the meeting.