UFUTURE TEAM IN ISRAEL: EXPLORING INNOVATION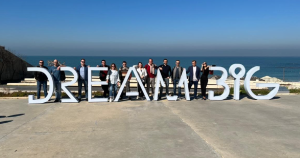 Dream Big is a phrase that is often heard in Israel. A small country with extremely limited natural resources cannot be successful without a proper worldview.
On February 12-20, the UFuture team, together with the holding's founder Vasyl Khmelnytsky, is visiting Israel and the United Arab Emirates. The educational tour program includes:
Visiting the Peres Center for Peace & Innovation, possessing a large-scale holographic exhibit of prominent Israeli entrepreneurs, the personal office of Shimon Peres, the founder of the Startup Nation, as well as a demo zone of leading Israeli companies.
Meeting with Itzik Goldwasser, CEO of Yissum, Israel's leading technology transfer center at The Hebrew University of Jerusalem (the largest Israeli unicorns, including Mobileye, Orcam, Collplant, Qlight and Briefcam emerged here).
Meeting with Zvi Ginosar, CEO and co-founder of CorrActions, the world's first non-invasive neuroscience technology startup, providing AI software solutions for multiple Human-Machine interface challenges.
Meeting with Nikita Shenkar, CEO and co-founder of Gaia Biotechnologies, the first automated commercial synthetic biology factory that performs "genetic modification of bacteria as a service" to solve the most pressing environmental problems of mankind.
A visit to QuantLR, the world's first affordable solution for quantum-protected communications.
Visit to Ben-Gurion University, including a lecture and field trip by Professor Shlomi Dolev, cybersecurity guru, founder of the Department of Computer Science.
Visit to the cyber ​​security innovation lab Cyber​@BGU.
Visiting the Netanya Technology Park, meeting with its president, and much more.
After the tour around Israel, the team will travel to Dubai for the world's largest exhibition EXPO 2022.
"My team and I are on a pre-planned educational tour to Israel and the UAE. Yesterday we visited the Perez innovation center in Tel Aviv. We see how innovation is developing, how this impressive country has been able to create the conditions for business to grow, and investors from all over the world have sought to invest here, despite all the military threats. Shimon Peres said that an optimist and a pessimist die the same, but life is different for them. So, I am an optimist and I believe that everything will be fine, but for this, we need to take care of business development and innovation in Ukraine," Vasyl Khmelnytsky noted.
Educational tours to world innovation centers have become UFuture's business tradition and, according to Vasyl Khmelnytsky, are an important condition for the development of entrepreneurial thinking of the team.
The top managers of a number of UFuture's businesses, as well as employees of the holding, joined the educational trip to Israel and the UAE.