UFuture has signed a memorandum with the UAE public investment fund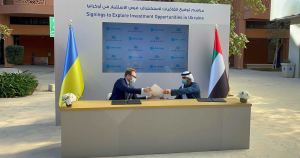 During the official delegation to the United Arab Emirates, the holding company UFuture and the innovation park UNIT.City signed a memorandum of cooperation with the largest investment fund in the country Mubadala. The parties agreed to work out new investment opportunities in Ukraine.
"Mubadala has created a solid experience of entering new markets. Ukraine has great potential for foreign investment, and the signing of the memorandum of understanding with leading actors in Ukraine is a commitment to explore potential investments and areas of cooperation on an individual basis. We are impressed by the quality and development of Ukrainian business," said Faris Al Mazrui, Head of Mubadala's investment program in the CIS.
"International cooperation has always been a priority for UFuture holding company. We welcome the continuation of the dialogue with Mubadala and are ready to delve deeper into the earlier review of joint investment projects in the fields of infrastructure, education, innovation and renewable energy. We are inspired by the Abu Dhabi government's interest in investing in Ukraine, which gives us confidence that cooperation with Mubadala may soon be a new success story in the development of relations between Ukraine and the UAE," said Nicholas Tymoshchuk, CEO of UFuture.
Mubadala Investment Company is one of the world's leading sovereign wealth funds with assets of more than $232 billion and annual profits of more than $14 billion. The company's project portfolio covers six continents and 50 countries.