UFUTURE AND INSOFT PARTNERS TO SELL THEIR JOINT OUTSOURCING BUSINESS ITERNAL GROUP TO UST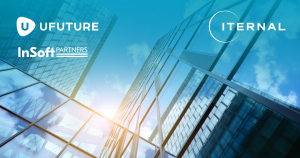 Ukrainian partners to continue cooperation and invest in larger projects
Kyiv, January 17, 2022. – Investment company InSoft Partners and holding company UFuture announce the sale of their joint outsourcing business ITernal Group to an international company headquartered in Aliso Viejo, USA, UST. Deal negotiations lasted from September 2021 to January 2022.
ITernal Group, a joint project of InSoft Partners and UFuture, was launched in 2018. Within 1.5 years, Lenal and Rademade software development businesses from Kyiv, as well as service department of Rozdoum company from Kharkiv, were acquired. Over the next six months, they were merged into a single entity, ITernal Group.
The new owner of ITernal Group, international company UST, has been working in the software development market for over 22 years. The acquisition of ITernal will allow UST to expand its Eastern European presence: the company did not have an office in Ukraine before.
As part of the business reformatting, InSoft Partners also withdrew from the educational project ucode IT academy in favor of its strategic partner UFuture. The companies have been developing ucode IT academy since 2018. During this time, they created a unique software product for students training and several joint educational programs with Ubisoft, CISCO, Ajax Systems, Squad and others.
UFuture will continue to develop ucode IT academy as an educational platform within its own social investment projects to develop Ukraine's innovation potential. Now ucode IT academy works at UNIT.City innovation park in Kyiv.
"With ITernal Group creation we tested the idea of several small IT companies merging for reducing money spending and sustainable scaling of business. We deliberately went into small businesses and merged them not consistently, but simultaneously to test our business skills within small companies. Merging small companies into a large entity and its strengthening due to the reputation of majority shareholders has helped the ITernal Group to start cooperation with high-level clients. Successful completion of the business cycle (development of an idea - several companies buying - merging them into one entity - selling to a large strategist) confirmed our idea. Together with UFuture, we plan to use this model in larger projects," said InSoft Partners founder Vitaly Gorovoy.
"Our partnership with InSoft Partners is just beginning. The sale of ITernal Group was, firstly, highly profitable, secondly, showed us scale prospects. I am glad that we have attracted a great international company UST to Ukraine. This is not only an international investment in the development of the project, but also new experience, knowledge and opportunities for talented Ukrainian teams," said Vasyl Khmelnytsky, founder of the UFuture holding company.
Additional information
UFuture is a holding company of Ukrainian entrepreneur Vasyl Khmelnytsky that integrates his business and impact-investment projects.
The company has a diversified portfolio of assets in the fields of real estate, infrastructure, industry, renewable energy, pharmaceuticals, and IT. Currently, UFuture's assets are estimated at $500 million, and the total capitalization of the businesses it invested in is up to $1 billion.
InSoft Partners is an investment company that buys stakes in IT service companies and helps them grow. Specialization: IT business value increasing, scaling, M&A. Core Value, Cloudfresh are among of their completed projects.
UST, for more than 22 years, has worked side by side with the world's best companies to make a real impact through transformation. Powered by technology, inspired by people, and led by our purpose, we partner with our clients from design to operation. Through our nimble approach, we identify their core challenges, and craft disruptive solutions that bring their vision to life. With deep domain expertise and a future-proof philosophy, we embed innovation and agility into our clients' organizations – delivering measurable value and lasting change across industries, and around the world. Together, with over 28,000 employees in 28 countries, we build for boundless impact – touching billions of lives in the process.