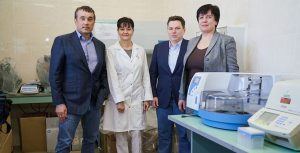 UFuture and Biopharma submit complexes for detection of COVID-19 pathogens to the laboratories of the Public Health Center of the Ministry of Health of Ukraine
Equipment will allow you to quickly determine the presence or absence of pathogens of coronavirus disease
March 23, 2020. — Biopharma, which is one of the ten largest Ukrainian manufacturers of the pharmaceutical industry and specializes in human blood plasma drugs, has submitted to the laboratories of the Public Health Center of the Ministry of Health of Ukraine equipment that will allow the presence and absence of samples to be determined quickly and by modern methods agents of coronavirus disease. This decision, in conjunction with entrepreneur Vasyl Khmelnytsky's UFuture holding company, is a continuation of a series of social initiatives undertaken by Ukrainian entrepreneurs amid a coronavirus pandemic.
"The Center will become the main reference site that will monitor the correctness of diagnostics throughout Ukraine. In other words, samples from laboratories will be sent here to confirm or refute the diagnosis. Without the transferred equipment, effective control of coronavirus disease in Ukraine would be defective," Kostiantyn Yefymenko, President of Biopharma, reported.
The first unit is the Nuclear Acid Extraction Equipment from Thermo Fisher Scitific with consumables for 20,000 samples. The equipment helps prepare samples for analysis. The second unit is the equipment of Bio-Rad CFX 96 for molecular genetic analysis by PCR for the presence of a DNA virus and a system test for the detection of COVID-19.
The total cost of the equipment exceeds six million UAH, its installation and startup is performed by the company "ALT Ukraine LTD". The equipment allows to process up to 100 samples in 60 minutes and in total about 2 thousand analyzes per day.
"Business should do everything in its power to stop the spread of the coronavirus and bring Ukraine back to normal. First of all, we need quality and timely diagnostics. already hundreds of millions of hryvnias and assistance continue," Vasyl Khmelnytsky, founder of UFuture, said.
In addition, UFuture purchased two lung ventilation devices and all materials for their operation for the amount of 1 million 700 thousand UAH to one of the hospitals in Kyiv, and Biopharma — equipment for Bila Tserkva city hospital №3 (reference infectious hospital for the Kyiv region) with an amount of five million UAH.
Among them:
• two AR-203 artificial ventilation apparatus;
• AS-200 biochemical automatic analyzer;
• 3-Part DiffH 18 light haematology analyzer;
• EasyStat blood gas and electrolyte analyzer;
• BM1600 patient monitor with BM200 module;
• Laura Smart urine analyzer;
• two microscopes Micromed Fusion FS-7620.
The total cost of assistance from the holding companies is more than 12 million UAH. Also, masks and systems for rapid tests for the hospitals of Bila Tserkva will be purchased soon.
ADDITIONAL INFORMATION
UFuture is a holding company of Ukrainian entrepreneur Vasyl Khmelnytsky that integrates his business and impact-investment projects. The company has a diversified portfolio of assets in the fields of real estate, infrastructure, industry, renewable energy, pharmaceuticals, and IT. Currently, UFuture's assets are estimated at $550 million, and the total capitalization of the businesses it invested in is more than $1 billion.
Biopharma is a Ukrainian immunobiological pharmaceutical company that which specializes in the drugs of human blood plasma. The number of employees – more than 300 people. The company exports drugs to 36 countries. In 2019, the company opened in Bila Tserkva a "built from scratch" manufacturing facility, investing about $75 million. Its the only plant of its kind in Eastern Europe.