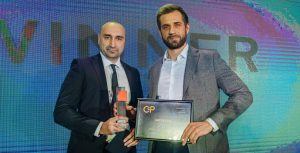 UDP has become the best commercial real estate developer in 2020
UDP has received two national awards Commercial Property Awards 2020 in the "Commercial Real Estate of the Year" and "Class A Business Center" nominations. The latter was awarded the Business Campus B10 of Ukraine's first UNIT.City Innovation Park.
The architectural concept for the B10 enclosure was developed jointly with APA Wojciechowski Architekci. The peculiarity of the building is that it is built to the green LEED standard. Currently, B10 residents include Bolt, MHP, Global Talent, MBI Development and more.
"These awards are for each team member. They for all our colleagues who work day by day to build comfortable cities, implement the latest architectural and engineering solutions, not just build buildings — ensure sustainable and innovative development of Ukraine," Vitalii Melnyk, Vice President of UDP, explained.
UDP is one of the leading development groups in Ukraine. These include state-of-the-art shopping and entertainment centres, comfortable city-to-city residential complexes and innovative parks. Today, the company has implemented about 20 projects with a total area of more than 3 million m².
Among the company's most well-known long-term projects are the Ocean Plaza shopping mall, residential complexes "Novopechersʹki Lypky", "Bulʹvar Fontaniv", RiverStone, "Parkove Misto", White Lines and major infrastructure projects — modernization of Kyiv International Airport. I. Sikorsky and the development of UNIT.City and LvivTech.City innovation parks.