Top speakers of Ukraine will attend the Forum of Innovative Productions-2021 in Bila Tserkva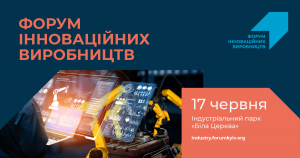 On June 17, top speakers of Ukraine from the governmental and corporate sectors will give the speeches at the Forum of Innovative Productions, which will take place on the territory of Bila Tserkva Industrial Park.
Among them:
Oleksiy Chernyshov, Minister for Communities and Territories Development of Ukraine;
Taras Kachka, Deputy Minister for Economic Development, Trade and Agriculture of Ukraine, Trade Representative of Ukraine;
Vasyl Khmelnytsky, Founder of the UFuture holding company;
Andriy Zdesenko, Founder and CEO of Biosphere Corporation;
Oleg Boyarin, Chairman of the Supervisory Board of the Eurocar Group of Companies;
Natalia Yemchenko, SCM Public Relations, and Communications Director;
Stanislav Vilensky, Deputy Chairman of the Board of Alef Corporation;
Kostiantyn Yefymenko, President of Biopharma pharmaceutical company.
The development of manufacturing enterprises in Ukraine through access to the ecosystem of industrial parks, accelerators, investment, and partnership programs will be discussed at the forum. More than 700 owners and managers of industrial enterprises will attend the forum. The event is organized by the Kyiv International Economic Forum.
Among the main topics of the forum:
Ukraine's industrial strategy and current challenges;
made in Ukraine in global markets;
industrial parks as drivers of economic growth;
digitalization of production;
money for development: sources, conditions, risks;
efficient production;
new business strategies in the new economy.
Also, there will be an exposition of Ukrainian manufacturers on the territory of the industrial park during the event.
Participation in the forum is free subject to prior registration and confirmation from the organizers via the link. More details about the event here.