"Think differently — and you will win the crisis," — business advices from Vasyl Khmelnytsky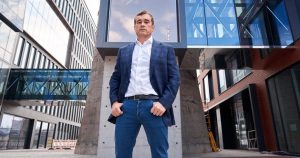 The crisis is not a challenge, but a redistribution of resources. If the rules of the game change, you need to adapt to them or create your own. Vasyl Khmelnytsky, the founder of the UFuture holding company, shared anti-crisis pieces of advice for Big Money entrepreneur Yevhen Chernyak and emphasized the importance of maintaining relationships with the team and clients whose business suffered losses during the crisis.
Think differently. If you look for new ways to do business effectively — you will win.
The crisis will end — trust will remain. Support customers who are having a hard time dealing with the crisis. Do not fire employees — change the conditions. Having lost the team, in the future, will be challenging to return employees.
Good managers should be made partners and given a share in the company. So they will feel that this is their business as well.
Read more useful tips from famous entrepreneurs in the column MC.Today.