The team of the Kyiv International Economic Forum launches a new educational project — KIEF Academy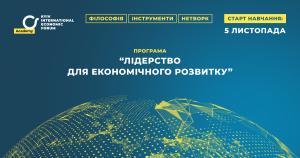 On November 5, the UNIT.City innovation park will launch the Leadership for Economic Development training program from the KIEF Academy, which aims to develop Ukrainian emerging leaders in the private, public, and public sectors. The project was launched by the Kyiv International Economic Forum, whose strategic partner is the holding company UFuture.
The mission of the KIEF Academy is to offer philosophy, network, and tools for the development of leaders and the maximum disclosure of economic potential. KIEF said that the flagship program is aimed at entrepreneurs and investors, civil servants and local government officials, top managers and experts, as well as future leaders of change.
"This is not an MBA or a Public Administration program. We are doing a practical intensive that synthesizes the expertise, vision, and research of 30 iconic KIEF speakers — from Harvard professors and heads of governments of European countries to multimillionaire entrepreneurs, top officials, and MPs of Ukraine," said KIEF Supervisory Board member Viktor Halasyuk.
Training will begin on November 5, 2021 in the UNIT.City innovation park. Participants will take part in 8 thematic modules over two months:
Global trends and successful cases in Ukraine.
Applied macroeconomics and economic policy.
Tools of economic development.
Management strategies and best practices.
Financing of development projects.
Creation and development of successful teams.
"Invisible Capital": reputation, PR and GR.
Culture, thinking, psychology.
Among the speakers are well-known practices from Ukraine, the USA, the EU and Asia:
Michael Woolcock (World Bank, Harvard University);
Grzegorz Kolodko (Center for Economic Research, Transformation, Integration and Globalization TIGER);
Chandran Nair (World Institute of the Future, Club of Rome);
Iryna Novikova (Ministry of Economy of Ukraine);
Dmytro Kysylevsky (Verkhovna Rada Committee on Economic Development);
Olena Boitsun (Luminate);
Ivan Lukerya (Ministry of Regional Development);
Zhanna Kryuchkova (Jansen Capital Management, Huxley);
Andriy Baumeister (Taras Shevchenko National University);
Bogdan Danilishin (NBU);
Ruslan Spivak (Raiffeisen Bank);
Boris Shestopalov (Holding HD-group);
Ivan Kompan (Deloitte Academy) and others.
The program, which takes place every Friday and Saturday, also includes:
dialogues with government officials and international experts;
Alumni Club (networking, study tours, special conditions for participation in KIEF).
The first set of the program is limited to 30 participants.
You can learn more about the KIEF Academy and its Leadership for Economic Development program via the link.