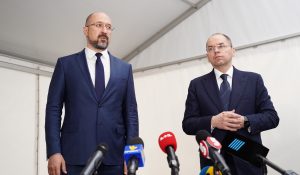 The Prime Minister of Ukraine Denys Shmyhal and the Minister of Health Maksym Stepanov visited the fractionation plant Biopharma
As part of a working visit to Bila Tserkva (Kyiv region), the Prime Minister of Ukraine Denys Shmyhal and the Minister of Health of Ukraine Maksym Stepanov visited the fractionation plant of the company Biopharma, whose strategic investor is UFuture. Vasyl Khmelnytsky, founder of the UFuture holding company, and Kostyantyn Yefymenko, president of Biopharma, gave a tour of innovative products to government officials.
"The Biopharma plant has recently joined an international alliance, and our experts, along with experts from the United States, Japan, the United Kingdom, Germany and Australia, are developing a specific hyperimmune immunoglobulin potentially effective against COVID-19. It will be based on blood plasma that contains antibodies to the coronavirus. After all, today scientists believe that this tool can be developed and used faster than all other drugs," Vasyl Khmelnytsky said.
According to the Prime Minister, the fractionation plant is currently competing with the best industries in the world, supporting job development in the region, high wages and paying taxes to the state budget — in particular, about 180 million UAH for 2019. In turn, the holding company UFuture together with partners has already invested more than €75 million in important production for the development of the industry.
"A visit to the Biopharma plant is a symbolic visit in support of Ukrainian producers. Domestic production has great prospects and can compete with the world's best counterparts. We will pay attention to this so that the pharmaceutical industry will continue to develop," Denys Shmyhal summed up.