"The economy has no feelings — it is a pure calculation," Vasyl Khmelnytsky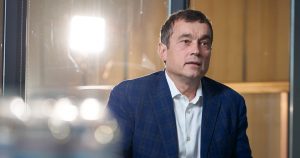 The final stage of the MC.Today's project "Top Brave Entrepreneurs of Kharkiv" took place within the framework of the "KUB — Country of Successful Business" program from PrivatBank and Mastercard. In a live broadcast on the WIN WIN SHOW channel, Vasyl Khmelnytsky gave the competition winner and the founder of the LarusLab polymer waste processing facility Anton Chaika feedback on the project.
Also, founder of the holding company UFuture shared with the novice entrepreneur useful advice and thoughts on setting up production and starting export activities.
I support any production located in our country. After all, I think that it is entirely wrong to grow wheat, which the Italians buy and make flour and other products to sell to us again. We must understand that this is a free market, where we can export and manufacture and earn more.
Many entrepreneurs believe that manufacturing is worth millions of dollars. However, Ukraine has tremendous opportunities to produce cheaply and supply products around the world right now. And if you start with less, you can achieve more profit. Remember: manufacturing is not a quick profit and it will take three, five or ten years to feel the money you make.
We built the Biopharma plant ten years ago. All the profits that it brings, we invest in improving equipment and increasing production capacity. Now the plant's cost, which at the beginning of its existence was worth ten million dollars, is 200 million. It is the case when a business chooses: put money in its pocket or improve production for the sake of new products and even more profit. In my opinion, the right move is to make a little money and keep investing.
When we started to manufacture sockets at Plank Electrotechnic, then, as entrepreneurs, we thought: if we make high-quality and cheap products, then buyers will choose us. But that didn't happen. We didn't consider that people don't buy such equipment, but companies with a specialist who understands the intricacies of an electrical appliance do. It suggests that you don't see the full picture of what is happening when you start a business.
Today, in the industrial park "Bila Tserkva" we are building three small production facilities, both for domestic sale and export, which is a priority — it is always profitable to sell for a stable currency.
The economy has no feelings — it is pure calculation. To start exporting products, you need to have deep analytics. And if such research confirms that the products have added value that can compete with the world, you need to start. Desire alone will never be enough.
More about how entrepreneurs think in times of crisis, build a strategy, form a team, respond to the time's challenges, and develop production in Ukraine via the link.