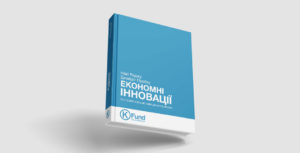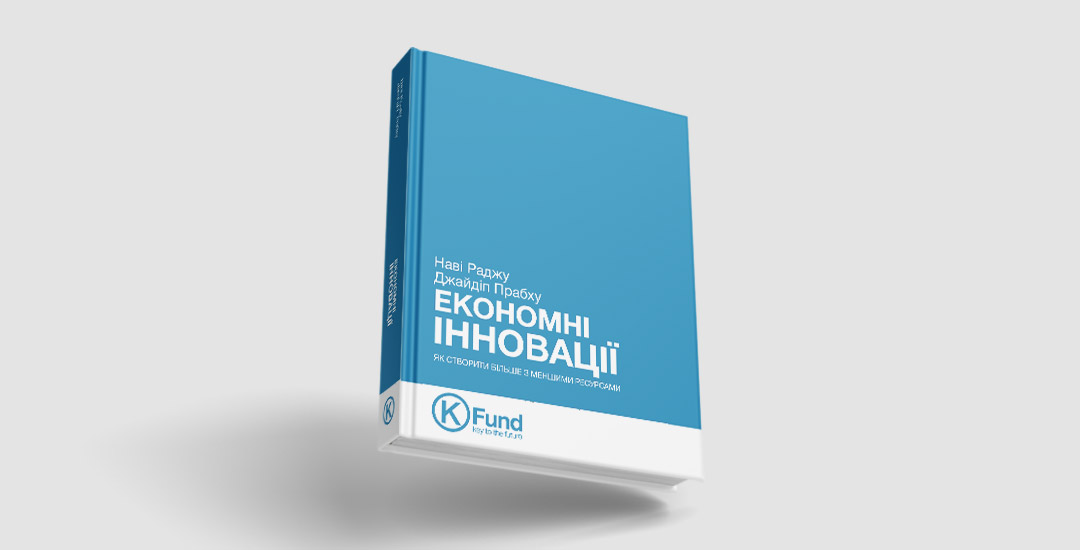 THE ECONOMIST BOOKS BESTSELLER "FRUGAL INNOVATION: HOW TO DO MORE WITH LESS" IS NOW AVAILABLE IN UKRAINIAN
This recent book by Navi Radjou and Jaideep Prabhu was published in Ukraine by Vasyl Khmelnytsky's K.Fund.
At the Kyiv International Economic Forum, Vasyl Khmelnytsky's K.Fund presented the Ukrainian edition of the global bestseller by Navi Radjou and Jaideep Prabhu "Frugal Innovation: How to Do More With Less."
Radjou and Prabhu claim that frugal innovation has transformed from business strategy into a new way of thinking. Limited resources should not be seen as a rigid condition but rather as a challenge for management. Companies that take this challenge offer their customers the most of useful opportunities at minimum costs. Describing case studies in detail, the authors prove that by using the new approaches, one can not only reduce costs, but also develop the company's potential, make profit, and change the corporate culture.
"Frugal innovation is actually a guide to action for Ukrainian businesses. Giving real examples, the authors analyze Western experience of introducing innovations. The book is especially relevant nowadays, when local players utilize all available resources in order to survive. First of all it will be useful to Ukrainian entrepreneurs and managers. But the publication is for a wider audience — people who see challenges not only as a negative factor, but also as new opportunities to develop" Khmelnytsky said when commenting on the release of the Ukrainian version of the book.
Radjou is an Indian economist and consultant to Silicon Valley companies, he is among the top 50 outstanding thinkers on innovation, and is a fellow of Judge Business School at Cambridge University.
Prabhu is Jawaharlal Nehru Professor of Indian Business & Enterprise and Director of the Centre for India & Global Business at Cambridge Judge Business School. At various times, he has held positions at leading educational centers in the United Kingdom, the Netherlands, and the United States.
The original edition of the book "Frugal Innovation: How to Do More With Less" was published on February 10, 2015, as part of the premium series of the British publisher Economist Books. The Ukrainian version of the book is now available at online book stores. The book can also be requested at: [email protected]
In Ukraine, Vasyl Khmelnytsky's K.Fund implements a model of continuous education, with a particular interest in books. As part of the Khmelnytsky's Library project, K.Fund plans to regularly inform the Ukrainian audience about the best Ukrainian business publications in the following areas: education, economies, entrepreneurship.
About K.Fund
K.Fund was founded by Ukrainian entrepreneur Vasyl Khmelnytsky in 2015 to support education and economics projects. K.Fund's mission is to provide keys for development and self-fulfillment, open opportunities for new knowledge and skills, and give assistance to finds and ensure their promotion to a new level. K.Fund opens the way to dreams -> kfund.ua
Vasyl Khmelnytsky is First Vice-President of the Ukrainian League of Industrialists and Entrepreneurs. He invests in the development of various businesses in Ukraine with a focus on cooperation and co-management. Almost every project has its own configuration of shareholders and management.
Today, the entrepreneur's core activity is the real estate development business. He is a majority shareholder in UDP company, which implements large-scale infrastructure projects, including Kyiv International Airport, Ocean Plaza shopping mall, residential complexes Novopecherski Lypki, Boulevard of Fountains, RiverStone, and Parkove Misto. Khmelnytsky also invests in BIOFARMA (pharmaceuticals production), Star Media (production of films and TV programs), RTM (national advertizing operator). The entrepreneur's plans include the creation of hi-tech industrial facilities, the development of innovation parks, and the attraction of foreign investment and technologies to Ukraine.
Among the social initiatives supported by the entrepreneur are the Kyiv International Economic Forum (KIEF); projects of the Osvitoria Social Organization: a modern secondary school in Kyiv — Novopecherska School and the iLearn online platform for orphans and children from needy families; a master's level program in public administration at National University "Kyiv-Mohyla Academy"; the inter-corporate IT university BIONIC University (the first of its kind in Ukraine); and publishing project Khmelnytsky's Library.