The cradle of technological leviathans is the Plug and Play Tech Center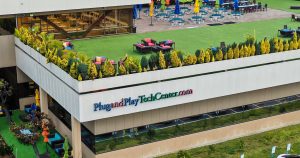 Even technology giants — Google, Dropbox, PayPal and others — were once beginners. And so, of course, everything was born in Silicon Valley, and the launch site of the giants, which largely shaped the reality of today, was the accelerator Plug and Play Tech Center. Recently, according to the Silicon Valley Business Journal, the platform was recognized as the most active venture capital company — the dream place of every startup. Every year, the accelerator hosts two track programs in about 15 industries — retail, fintech, the Internet of Things, cybersecurity, the food industry, etc.
Acceleration of the monster of money circulation
In the late 1990s, Elon Musk founded Xcom, which was to become an intermediary platform to take a small percentage of online payment transactions. Of course, Musk had almost everything — rich experience and many ideas — but he still lacked knowledge about encryption security. Max Levchyn from Kyiv, who knew programming and cryptography and had another Confinity company, provided this for the future billionaire. Later it was given a well-known name — PayPal. The emergence of the world's most extensive payment system was facilitated by merging the Musk and Levchin businesses in the Plug and Play accelerator.
In 2000, the merger allowed the two businesses to complement each other and grow faster, which was an acceleration in its purest form. Indeed, the service has overgrown: in the year of its founding, PayPal became an alternative payment method at the famous eBay web auction. Two years later, the company became so popular that it put its shares up for auction and received about a billion dollars in investment — fantastic for a two-year business. The exact price at which the eBay auction purchased PayPal is unknown, but the buyer made it with his payment system. In addition to processing millions of auction customers' payments worldwide each day, the tool remains the most reputable dollar-based payment service.
What distinguishes Plug and Play from other accelerators in the world
The traditional accelerator program selects startups from all industries and teaches them the same tactics and strategies. Plug and Play has a more individual approach and separate programs for each of the 15 industries represented on the platform. The accelerator does not require the startup to have equity to participate in the program. On the contrary, every year, the development centre invests in 160 companies of any size and development stage. Plug and Play not only helps build a long-term development strategy but also provides a community of the most technological and innovative companies to work with to launch pilots. All this has long been happening in Plug and Play's main centre, which is located in Silicon Valley. However, the accelerator has five more offices in Germany, six in China, two in Japan, and one in Indonesia, Mexico, the Netherlands and Spain.
Program directors, venture capitalists, community managers, and business development experts are the most valuable resources available at Plug and Play centres for startups.
Who plays here, turns on and controls
Said Amidi is the CEO and founder of the investment, corporate innovation and acceleration platform Plug and Play Tech Center. Also, Amidi is one of the general partners of the Amidzad fund, which has been successfully investing in about 1000 technology companies for over 15 years, including PayPal, Powerset, Danger, Bix, Powerset, DropBox, Lending Club, Zoosk, etc.
Serial entrepreneur and experienced manager with over 28 years of experience in managing, operating and growing successful companies. Said Amidi has successfully opened and developed business nationally and internationally in countries such as Spain, Germany, France and Austria. Said's current passion is to help entrepreneurs and startups who are still university students. His goal is to find potential talents — future great "Musk" and "Bezos" who are just as passionate about implementing their own idea.
Acceleration is an inspiring phenomenon. In the image and likeness of the world, similar centres for business and technology development are opened every month, not every month. Representatives of Ukraine are not far behind — recently, the accelerator hub Sector X in UNIT.City has started recruiting startups for a new track — SaaS Tech.