The business campus at UNIT.City has received a LEED Silver Certificate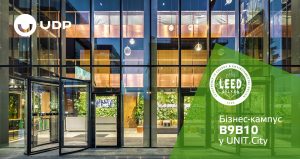 Business campus B9-B10 at UNIT.City received a Silver LEED v.4 Core & Shell certificate from the American Green Building Council (USGBC). The campus was implemented in 2019 by the development company UDP, the majority shareholder of which is the holding company UFuture, and in 2020 UDP with the receipt of LEED certification at the international level confirmed the energy efficiency and environmental friendliness of the building.
Thus, the well-thought-out architecture of the B9-B10 business campus at UNIT.City and energy-efficient engineering solutions made it possible to reduce the annual energy consumption of the building by 30%, reduce water use by 40%, high air quality in the building is ensured by two-stage purification. Separate collection of household waste and their further processing was also implemented.
"From the design stage to the construction and operation of buildings — all facilities in innovation parks are created by the UDP team taking into account the international requirements of green construction. In fact, in this way, we create not only energy-efficient buildings but also trends for the entire development market of the country. Sustainable development and economical use of natural resources should become a new basis for responsible development in modern Ukraine," commented Vitaliy Melnyk, Vice President of UDP, on receiving the LEED certificate.
The B9-B10 business campus at UNIT.City is the second commercial building in Ukraine to be awarded the LEED Silver award. The first such building was the B12 campus, also on the territory of UNIT.City.