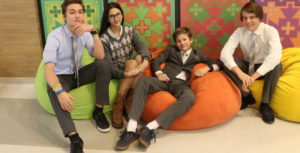 A team of Novopecherska school students took the third place in the Ukrainian stage of the American Diamond Challenge for High School Entrepreneurs contest!
The Diamond Challenge for High School Entrepreneurs is a competition for business and social projects. Under its conditions, each team had to develop a project with social and economic advantages, which would be useful not only for business but also for the country. Presenting their project, contestants had to take into account all components of a business venture, from the financial plan to the development of a marketing strategy. Despite the lack of a business mentor who could direct and suggest what to do next, the students joined hands from the very start and worked being guided by their own strengths and initiatives.
The young entrepreneurs' project was a platform for looking for a job, dubbed YourJob. Having analyzed the market, the students concluded there were enough websites for job search in Ukraine, but there is no platform for those who are looking for their first jobs and sources of additional income for young people without experience. For example, the world's popular LinkedIn in our country is widely used by experienced people, who promote their professionalism, while young people do not use it. So, this is how YourJob appeared, a social networking project for young people; it boasts a distinctive design, offers a system of achievements and its own special algorithms. The idea of the project is to turn the search for a job on YourJob into a kind of game: users try themselves in different jobs, receive credits (achievements) and virtual currency (Youdzhik), rated in special rankings where their skills are displayed. The main vector of the service is the search for a temporary job and assignments; it provides young people with work and the first experience of work, while employers have an inexpensive workforce for a variety of tasks.
Taking third place in Ukraine, Novopecherska School's team has been ranked among the top ten Ukrainian teams, which will take part in the semifinals to be held in Kyiv on March 13. In total, 300 projects from Ukraine were submitted for the competition. The three best teams will compete for the main prize in the United States.
Let's keep our fingers crossed and hope for the success of the team!