Sector X Acceleration Hub continues to work with Farmak and recruit startups for MedTech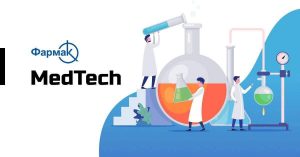 At the end of 2020, the partner of the acceleration hub Sector X — the pharmaceutical company Farmak — invested about $500 thousand in the startups of a specialized track. Thanks to the continuation of this cooperation for another year, Sector X again announces a set of startups for the MedTech program.
This year, the pharmaceutical giant is ready not only to invest in startups that interest it but also to launch company pilots. Additionally, the participants of the track will receive a step-by-step acceleration program in the format of self-study, developed on the basis of world best practices, lectures and workshops, support of mentors and experts, investment opportunities and access to the UNIT.City innovation park ecosystem.
The program is open primarily to startups working in the areas of MedTech and Digital Health with both software and hardware technology solutions. A feature of the new set is also the company's willingness to consider for participation in the program about 20% of non-medical startups, including projects related to the development of ancillary areas of business, such as marketing, HR, logistics, inventory management and others.
You can apply and find out the details of participation in the program via the link.