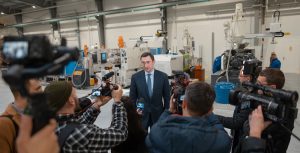 Oleksiy Chernyshov: "Bila Tserkva Industrial Park is an example for Kyiv region and all Ukraine"
Oleksiy Chernyshov, head of the Kyiv Regional State Administration, visited the industrial facilities of Bila Tserkva and got acquainted with the most successful companies in the region. In particular, he inspected the new fractionation plant specializing in plasma-based preparations from the donor blood, Biopharma, and Bila Tserkva Industrial Park.
Biopharma's President, Kostyantyn Efymenko, presented the company's development strategy and presented all the stages of high-tech production.
Volodymyr Khmurych, director of Bila Tserkva Industrial Park, presented the model of the project and introduced the governor to the cluster's enterprises.
The top manager noted that more residents are entering the territory of the industrial park – five projects are actively developing, four are under construction; negotiations with new potential clients are in process: both domestic and foreign companies.
"I am extremely impressed with the industrial park's projects. I believe that such projects are the engine of economic growth of both the economy of Ukraine and Kyiv region. We must pay special attention, help and support the development of such facilities, as they create new jobs, wages, taxes, additional GDP, and the future," Oleksiy Chernyshov said.