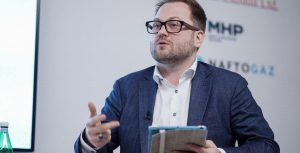 Nicholas Tymoshchuk, CEO of UFuture: "Don't panic: there is no reason for a sharp collapse of the hryvnia, its necessary to act rationally"
Hryvnia exchange rates against the dollar and the euro are not only a matter of survival of people and companies, but also a tool for sustainability of the Ukrainian economy. And yet — a direct indicator of the level of panic, — said Nicholas Tymoschuk, CEO of UFuture. In the column for NV, the head of the holding company gives the key reasons for the fall of the national currency in the recent history and analyzes the possibility of the implementation of negative scenarios in the current crisis period:
during the existence of an independent Ukraine, all catastrophic devaluations with the fall of the hryvnia occurred two or three times through the "curve" of the financial market, the company "Naftogaz", the prices for key exports and panic — the first two reasons are not terrible, the third is inevitable, and the latter depends only on us;
the 2014 war and crisis forced us to reform the NBU, as well as to clean up and substantially strengthen the banking sector, where the floating exchange rate has been observed for the last six years — this is why the collapse of the hryvnia is unlikely;
in the crisis periods of 2008 and 2014 years, the company "Naftogaz" purchased the entire dollar mass on the interbank market to pay gas bills and build up its foreign exchange reserves — today it is a profitable corporation which gives billions in budget and will not "substitute" hryvnia;
exports will gradually "sink" the national currency, prices and demand for raw materials from Ukraine will fall due to the global crisis, which will cause a decrease in the flow of currency into the country;
uncontrolled collapse of the hryvnia can only panic Ukrainians with mass raids in the exchangers — so it's important to act with a "cold" mind.
You can read the column completely at the following link.