Nebras Power and UDP Renewables announce a strategic partnership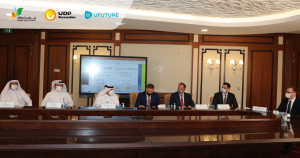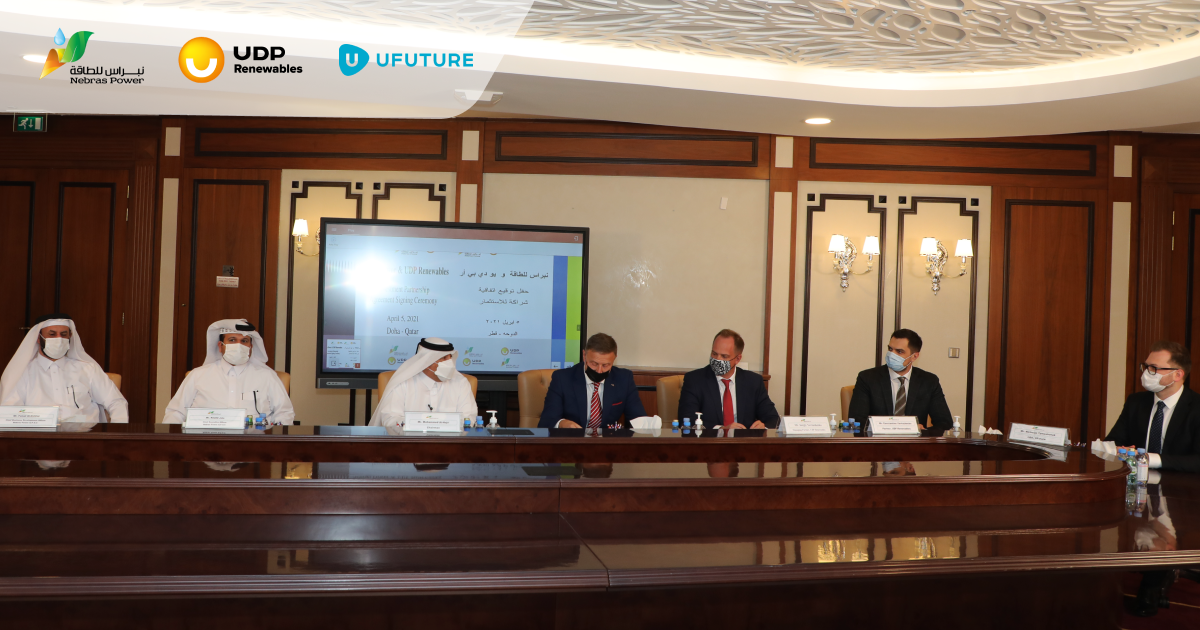 Qatari-based global power investment company with assets around the world is investing in the Ukrainian renewable energy sector
Kyiv-Doha, April 7, 2021. — UDP Renewables, a UFuture's portfolio company, opens Ukraine for an international power investment company based in Doha, Qatar — Nebras Power. The parties agreed on a strategic partnership and signed a number of contracts.
According to the agreements, Nebras Power assumes a controlling stake in six companies operating UDPR's photovoltaic solar power plants, namely: "Scythia-Solar-1", "Scythia-Solar-2", "Free-Energy Genichesk", "Port-Solar", "Terslav" and "Sun Power Pervomaisk".
"This SPA signifies a fruitful conclusion of the two-year negotiations on cooperation with Nebras Power — it's a long-awaited victory and a great honour for us. We are happy to be opening opportunities in the Ukrainian market for a noted global power investment company and are proud to become its reliable partner. I am confident that together we will be able to make our planet cleaner and greener for future generations," Sergiy Yevtushenko, Managing Partner of UDP Renewables, said.
Nebras Power is an active international player in the global power market. The company invests in the development of clean energy the world over and currently has assets based in the Middle East & North Africa, Asia, Australia, Latin America and Europe. These assets have been developed to meet the growing demands for power. Nebras Power is one of the first players from the Middle East to enter into a long-term strategic partnership with Ukraine.
"For Nebras, Ukraine represents not only a rich and dynamic new market but also symbolizes the success of our global growth strategy, which endeavours to identify and invest in robust power projects in both developed and emerging economies. By leveraging this approach, we can deliver clean and reliable power to communities, while endowing those countries, such as Ukraine, with the means to meet their clean and green energy targets," said Khalid M Jolo, CEO of Nebras Power.
Nebras Power's Chairman Mohammed Nasser Al-Hajri, echoed Mr. Jolo's vision on the importance of the agreement and the company's foray into Ukraine:
"The partial acquisition of six solar projects in Ukraine will further add to and complement our expanding international portfolio mix. Furthermore, our partnership with UDPR communicates Nebras's expertise and ability to invest in and furnish projects that will affect positive changes in those diverse international power markets where we invest. As we move forwards, we look ahead to a prosperous and long-lasting relationship with UDPR and Ukraine," Mr. Al-Hajri said.
This cooperation between the two companies will contribute to the development of an innovative economy and the preservation of the environment. The next stage of the partnership envisages joint development of wind power generation projects by Nebras Power and UDP Renewables.
The collaboration will add to Nebras Power's impressive portfolio of sustainable strategic investments in power, water and renewables globally. For UDPR, the partnership will expand the share of clean energy in Ukraine's energy balance, improve the country's global competitiveness, and help reduce its carbon footprint.
"By 2023 we will add more to Ukraine's green energy capacity, thus improving both our country's environment and its global economic competitiveness. Thanks to Nebras Power's investments we will be producing more than 700 GW*h of clean electricity per year, enough to power 310,000 average houses," Nicholas Tymoshchuk, CEO of UFuture said.
ADDITIONAL INFORMATION
UDP Renewables is an investment and development company in the field of renewable energy. By diversifying the resources and location of its facilities, UDP Renewables plans to become one of the largest producers of clean energy in Ukraine by 2022 with a total capacity of more than 300 MW.
UFuture is a holding company of Ukrainian entrepreneur Vasyl Khmelnytsky, which has a diversified portfolio of assets in real estate, infrastructure, industry, renewable energy, pharmaceuticals and IT. Currently, UFuture is a strategic investor in UDP Renewables. UFuture's assets are estimated at $500 million, and the total capitalization of the businesses it invested in is up to $1 billion.
Nebras Power Investment Management B.V. ("NPIM") is a wholly owned subsidiary of Nebras Power Q.P.S.C., incorporated in the Netherlands and is operating since 2016. NPIM is the international investment management platform of Nebras Power Q.P.S.C. Its mandate is to own, develop and invest, in greenfield developments and brownfield projects, in the sectors of power and water, in the Netherlands and internationally.