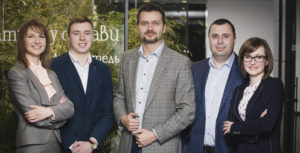 Meet Lean institute Ukraine dream ream!
The Lean Institute Ukraine is a little over a year old now, but during this time a lot has been done, many victories achieved we are proud of.
Behand every victory stands a friendly and strong team – a team of experts who have many years of experience in domestic and foreign companies in various fields. A team of professionals in the areas of transformation, personnel development, implementation of a number of approaches to improve production and business development. A team of experts who make Ukraine's organizations more powerful and effective.
So meat our dream team! Today the Lean Institute Ukraine is:
SERHII KOMBERIANOV
President
Serhii has been engaged in the Lean movement since 2013 after meeting with well-known lean practitioner Peter Willats. As lean manager he assisted Mr. Willats in lean projects in real estate, educational sphere and manufacturing. Since then Serhii has been gaining his experience in lean implementation in Ukrainian companies.
GRIGORIY BERDNIKOV
Senior consultant
Grigoriy – has more than 15 years of manufacturing experience and extensive experience in the implementation of the lean approach in manufacturing enterprises, in particular as the head of functional operational improvements structures and the leader of the technical direction in production corporations.
ANNA YANKOVETS
Consultant
Anna has extensive experience in personnel development and lean transformation in production and service companies. Before the beginning of consulting practice Anna implemented lean at senior positions in energy corporations.
DMYTRO DEMYDOV
Lean manager
Dmytro is experienced in implementing of comprehensive programs on operational processes improvement. Under his area of responsibility there were development of continuous improvement systems and training for staff of large production enterprise of lean methods and approaches.
TETIANA OZTUNC
Operations coordinator
Tetiana is an internationally experienced Budget & Financial Analysis Manager, has been responsible for control of factories in Ukraine, Russia, India and Azerbaijan. Author of the book "Integral estimate of company's financial condition".