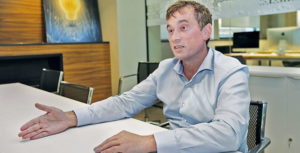 Latest Khmelnytsky quest: Bila Tserkva Industrial Park
If at first you don't succeed, try again. That seems to be Ukrainian multimillionaire Vasyl Khmelnytsky's maxim for his latest project: the construction of the Bila Tserkva Industrial Park.
It will be the ex-Party of Regions member of parliament's second industrial park, to be built in the face of a tough investor climate.
Located 80 kilometers southwest of Kyiv, the Bila Tserkva project will host industries including food manufacturing, pharmaceutical production and engineering projects.
Among the 20 to 30 factories planned for what could eventually be expanded to a 500-hectare park will be Ukraine's first nanotechnology factory. It is planned to produce rods from sand that can be then used for building materials.
Khmelnytsky's development company UDP – which was behind Kyiv's Zhuliany Airport and shopping centre Ocean Plaza – purchased the first 50 hectares of land earlier this year from Iranian businessman Ali Mohammed Khani Omran's Euro Finance Ltd. group.
According to Khmelnytsky, the company planned to build a metallurgical factory there, but sold the land due to a bad economic climate for the industry.
Two parks operating
Khmelnytsky says he plans to add Bila Tserkva to the Ministry of Economic Development and Trade's register of industrial parks in the coming months.
There are currently 15 industrial parks registered with the ministry, but only two are operating.
Among the 13 that are still in development is Khmelnytsky's first project, Bionic Hill, in Kyiv's Sviatoshynsky district.
Khmelnytsky said the project is currently frozen because of a lack of investors.
Although Khmelnytsky says Bionic Hill is technically not an industrial park – but a technology park — the development has been on the ministry's register since 2014.
Khmelnytsky admits he registered the project as an "industrial park" to attract investors.
"Ukraine can't attract investors because there are big risks here," he said.
"If you're a foreign investor and it's viable for you to produce something here, to get the land, get the infrastructure, electricity, water…it will take two to three years at best, and that's if you don't run into corrupt schemes. A park has conditions that guard against corruption and has the infrastructure."
Khmelnytsky's innovation park was intended to become Ukraine's answer to California's Sillicon Valley, but was frozen in 2014. A smaller version of the park, Unit Factory, was set up in Kyiv earlier this year.
Tax breaks coming?
The Verkhovna Rada adopted a bill to lift barriers to the creation of industrial parks in 2015. Meanwhile, two laws proposing tax breaks and customs benefits are currently on the docket in parliament. In spite of these moves, industry experts say Ukraine significantly lags behind its competitors and neighbors when it comes to investor incentives.
Khmelnytsky says while he backs the adoption of the legislation – which passed the first reading in October – he is confident his project will succeed even without the proposed incentives.
"If these laws are adopted, I'll have more investors. But if they're not, I'll have less but I'll still have them," he said.
Foreign interest
He said the development has already attracted plenty of interest, with around 20 inquiries from potential investors including Turkish and Italian food processors.
He is confident that at least three of them are ready to sign on.
Furthermore, in October Chinese and Korean delegations visited the park, which resulted in the park and Korea's Jeonnam Technology Park management signing a memorandum "confirming mutual aspiration to further forge bilateral cooperation and facilitate business-to-business relations between the countries."
And despite the lack of investors halting Bionic Hill, Khmelnytsky maintains that Ukraine's economy is recovering and now is the right time to build Bila Tserkva.
'A catastrophe'
He wants to use the development to set an example of a successful industrial park model for the government.
"I will make this park with no profits, because it's the first step to economic growth," he claimed. "In reality, the government should be doing this. But I want to create an example of how to do this, because I have experience. I've travelled and I've seen (how others do it)."
"I'm ready to spend a little of my own money to make (Ukraine rich). To be successful, I need people to be rich… Right now people are becoming poorer, and it's a catastrophe for me as a businessman. I don't see any other alternatives."